I am a people's person; I like to be with people. So I thought it would be a good opportunity to be connected with my country and work for my country abroad at the same time.
– Devyani Khobragade on why she joined the Indian Foreign Service
Source: Indian Panorama
Senior Indian diplomat and cutie pie Devyani Khobragade, 39, was arrested in New York City today on charges of Visa fraud and making false statements on wages of her Indian maid.
An Indian Foreign Service officer, Devyani is Deputy Consul General for Political, Economic, Commercial and Women's Affairs at the Consulate General of India in New York City.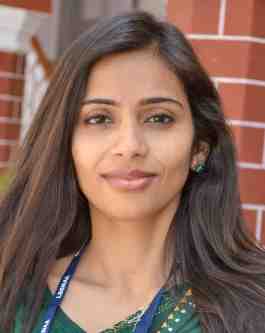 Devyani Khobragade – Hot Looking!
(Photo Courtesy: Chevening)
Indian Arrests Indian
U.S. Attorney for the Southern District of New York Preet Bharara, an Indian-American, announced Devyani's arrest a short while ago.
Khobragade has been charged with one count of visa fraud and one count of making false statements, which carry maximum sentences of ten years and five years in prison, respectively.
The charges against Devyani are related to making false statements in hiring an employee from India as babysitter and housekeeper on an A-3 Visa.
Khobragade is expected to appear this afternoon before U.S. Magistrate Judge Debra Freeman.
No Diplomatic Immunity
U.S. court documents reveal that Devyani may not be able to claim diplomatic immunity to get out of the current mess.
According to court filings, Devyani enjoys limited diplomatic immunity only with respect to those acts undertaken in her official capacity.
If Devyani is found guilty, she will be thrown into the general population in prison.
Devyani Khobragade is presumed innocent unless and until proven guilty.
Wage, Document Fraud
According to a court filing by Mark Smith, Special Agent of the U.S. State Department's Bureau of Diplomatic Security, Devyani filed false documents with the U.S. Consulate in Mumbai on the wages to be paid to her babysitter/housekeeper employee.
Smith alleged that Devyani signed two employment contracts with the unnamed employee:
1. A contract filed with the U.S. Consulate in Mumbai stating that the employee would be paid $4,500.00 every month
2. A second contract with the employee that she would actually be paid Rs 30,000 a month ($573.07 as per September, 2012 exchange rates).
U.S. Special Agent Smith alleges in the complaint that Devyani did not pay the employee even Rs 30,000.00 per month.
Devyani Khobragade – Background
Devyani was born in Tarapore, near Mumbai.
A medical doctor by training, Devyani was previously a Director in the Government of India's Ministry of External Affairs.
In the past, the hot-looking babe and mother of two young girls worked in the political divisions of Indian diplomatic missions in Pakistan, Italy and Germany.
As a diplomat, Devyani's first posting was in Germany.
Devyani is fluent in Marathi mother tongue), English, Hindi and German.
The 39-year-old Indian Foreign Service officer's interests include traveling, reading, yoga, music and dancing.
NYC Indian Consulate – Problems Galore
This is not the first time an Indian diplomat at the Indian consulate in New York City has been caught in a sticky, legal mess.
In 2010, senior Indian diplomat and Consul General of the Indian Consulate in NYC Prabhu Dayal found himself in an embarrassing situation when his maid complained that Dayal asked her for a massage.
Indians in the tri-state area also complain of rude treatment by the staff at the NYC Indian consulate and there are occasional incidents of important documents being lost by the consulate.