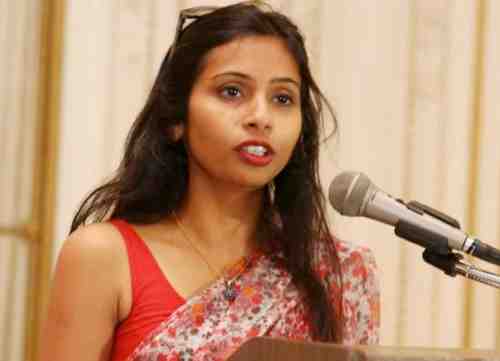 Devyani Khobragade – Born to Privilege as a Scheduled Caste
Despite multiple rounds of talks between NYC Indian Consulate's Deputy Consul-General Devyani Khobragade's legal team and U.S. Attorney Preet Bharara's office to resolve the diplomatic crisis caused by Devyani's arrest and subsequent strip-search, a plea deal to resolve the crisis has been bedeviled by serious differences between the two sides.
Both Preet Bharara and Devyani's attorney Daniel Arshack have disclosed in court filings that plea discussions have been going on for several weeks.
The Indian government, through the External Affairs ministry in New Delhi and via the office of the new Ambassador Subrahmanyam Jaishankar in Washington DC, is also actively involved in trying to save Devyani and repair the serious damage to India's dignity and honor caused by her arrest and strip-search.
Devyani Khobragade was arrested on December 12, 2013 on charges of Visa fraud and making false statements to U.S. authorities on the wages to be paid to her maid Sangeeta Richard. She was strip-searched by U.S. Marshals following her arrest, a standard procedure in federal cases.
Devyani is currently out on quarter-million dollar bail along with a bunch of restrictions.
Complications
There are three complications in arriving at a plea deal over L'affaire Devyani.
First, the ardent desire of both the Indian and U.S. governments not to be seen as surrendering to the other side.
After all, in diplomacy or any discussions between governments perceptions matter more than reality.
For the moment, the U.S. has the upper hand and is perceived to have acted boldly disregarding the high diplomatic status of Devyani and for its moves on behalf of a poor maid.
The Indian government and Devyani's supporters are seething and have got their langots in a twist over the perceived insult to a senior diplomat but are helpless to do anything about it other than whining, complaining and endlessly adjusting their langots.
As part of the U.S. desire to maintain the upper hand and keep the pressure on Devyani, Preet Bharara's office is opposing Devyani's attorney's request to delay the preliminary hearing scheduled for January 13.
On January 6, 2014, Bharara wrote to U.S. Magistrate Judge Sarah Netburn:
While we remain open to continuing these plea discussions as the case proceeds, the discussions are simply not at a stage that merits a continuance of the preliminary hearing. Moreover, the plea discussions can continue following indictment of the case. Accordingly, the Government is not seeking an extension of the deadline for indictment and therefore there is no motion for the Court to decide.
The U.S. State Department's delay in approving Devyani's U.N. credentials is also part of the pressure tactic on Devyani to settle the case on terms favorable to the prosecution (after her arrest, India transferred Devyani to the U.N. to provide her full immunity as opposed to the limited Consular Immunity she had earlier).
Indians have also been hamstrung in raising the race card since the prosecutor Preet Bharara and key spokespeople at the U.S. State Department are Indian-Americans.
The issue before the U.S. authorities has never been the trial or Devyani's imprisonment if she is found guilty.
The odds of the Devyani case ever going to trial or her imprisonment (even if she's fund guilty) are extremely low. By arresting and strip-searching Devyani, the U.S. has already made its point.
Fine and Apology
The second question now before the U.S. State Department and prosecutor Preet Bharara is how much fine to impose on Devyani Khobragade/Indian government and the U.S. desire for a clear written apology from Devyani to send a strong message about U.S. impartiality and equal treatment of all before the law.
Although the Indian government has previously paid hefty fines over the exploitative actions of NYC Indian Consulate diplomats vis-a-vis their maids, this time India is digging in its heels on a fine given the wide unfavorable publicity to the Devyani case and the need to avoid being seen as toadies to the U.S.
But the U.S. side seems adamant on both the fine and an expression of apology before they can let Devyani off.
Family Issues
A third complication, and one that is less talked about publicly, is  that Devyani's husband Aakash Singh Rathore is an American citizen.
Presumably, Devyani's two young children are also Americans since their father is an American.
This means Devyani cannot be easily booted out of America and banned from ever returning.
So any punishment to Devyani must allow for her to visit the U.S. at any time and with minimal inconvenience.
Still, all things considered it appears the two sides will arrive at an agreement before the end of this month.
There's too much at stake for both India and the U.S. to let the Devyani crisis fester and sink into a quicksand of intractable positions.
I won't be surprised if the case is settled even before the January 13, 2014 indictment date.