A New York City jury today found Mallu kuttan Mathew Martoma, 39, G U I L T Y of insider trading.
The jury convicted the Mallu crook of two counts of securities fraud and one count of conspiracy.
For his crimes, Martoma faces a maximum sentence of up to 45 years.
I bet Martoma, who looked dapper in a dark suit and blue tie today, will look equally good in prison stripes. 😉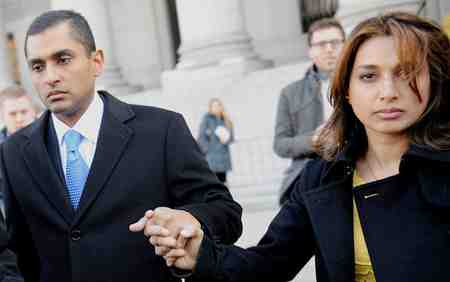 Mallu Criminal Mathew Martoma with Wife Rosemary
Martoma – Unhappy
Martoma is unhappy with the verdict and intends to appeal his conviction.
Despite the conviction, the Mallu Kuttan remains free on bail until his sentencing.
There's no information yet on his sentencing date but Martoma has likely been ordered to wear an electronic bracelet to reduce flight risk.
According to Mathew Martoma's indictment, his illegal schemes netted Martoma a bonus of about $9.3 million.
Martoma did not take the stand during the trial. He was represented by prominent White Collar defense attorney Richard Strassberg.
Martoma, previously a portfolio manager at the SAC hedge fund, was convicted of obtaining confidential information about a drug trial for Alzheimer's disease before it was made public and then illegally trading on the base of that information in 2008. Martoma's employer SAC also richly benefited from the insider information.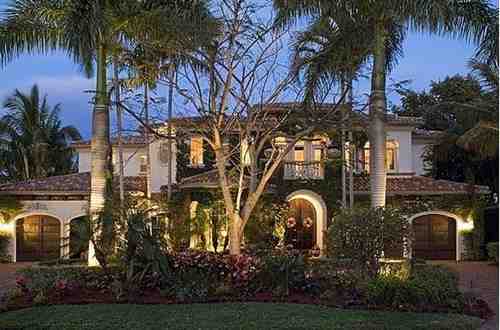 Martoma's Luxurious Florida Mansion with Fake Grass & Elevator
(Photo courtesy: Zillow)
Bharara Delighted
Indian-American Preet Bharara, U.S. Attorney for the Southern district of New York, couldn't hide his delight at getting his name into the newspapers again:
As the jury unanimously found, Mathew Martoma cultivated and purchased the confidence of doctors with secret knowledge of an experimental Alzheimer's drug, and used it to engage in illegal insider trading. Martoma bought the answer sheet before the exam – more than once – netting a quarter billion dollars in profits and losses avoided for SAC, as well as a $9 million bonus for him. In the short run, cheating may have been profitable for Martoma, but in the end, it made him a convicted felon, and likely will result in the forfeiture of his illegal windfall and the loss of his liberty. Mathew Martoma becomes the 79th person convicted of insider trading after trial or by guilty plea in this District in the last four years.
Martoma Sentencing
Martoma's sentencing will likely happen in a few months.
One hopes Martoma gets a long sentence as a deterrent to others tempted to engage in similar illegal behavior.
Federal prosecutors are expected to seek asset forfeiture as part of Martoma's sentencing.
They will argue that his assets were illegally obtained.
Last year, a NYC judge froze Martoma's house and accounts with over $4 million at the request of federal prosecutors.
I expect Martoma will spend at least 10 years in a tiny cell, a far cry from his luxurious 6,150-ft Boca Raton (Florida) mansion with elevator, swimming pool and fake grass.
Martoma – Bad Background
Martoma changed his birth name Ajai Mathew Mariamdani Thomas to Mathew Martoma after being expelled from Harvard.
The Mallu crook was kicked out of Harvard Law School for faking/inflating his grades while applying for a clerkship with judges.
Martoma is the son of Lizzie Thomas, a doctor, and Bobby Martoma, immigrants from India