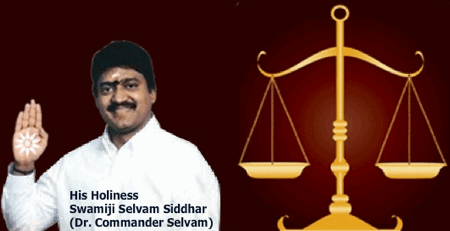 (Photo courtesy: Commander Selvam's law web site)
For several years, Tamil Samiar (godman) Annamalai Annamalai, a.k.a. Dr. Commander Selvam, a.k.a. Swamiji Sri Selvam Siddhar made a lucrative career out of helping fellow Indian-Americans tackle various obstacles – business, personal, legal, family, marriage, lottery numbers etc – by interceding with God (via pujas) for a fee.
Now it looks like 48-year-old Commander Selvam himself might need divine intervention to overcome his legal troubles.
Serious Charges
Earlier this month, Commander Selvam was indicted in the U.S. District Court for the Northern District of Georgia (Atlanta Division) on charges of bank fraud (credit card fraud), filing false federal income tax returns, bankruptcy fraud, making false statements, obstruction of justice and money laundering.
Commander Selvam has been arrested and is currently a resident of the Robert A.Deyton Detention Center in Lovejoy, Georgia.
Since Selvam is considered a flight-risk, he has been denied release on bond.
Besides the U.S. Attorney's office in Atlanta, Special Agents of the Internal Revenue Service Criminal Investigation team are also involved in Commander Selvam's case.
Here's an excerpt from U.S. Attorney Sally Quillian Yates's press statement announcing the 32-count indictment:
Annamalai generated income through the Hindu Temple of Georgia ("the Hindu Temple") by charging fees to his followers in exchange for providing spiritual or related services. In a typical transaction, a follower agreed to purchase a particular service for a communicated price, and provided a credit card number by telephone to guarantee payment. Annamalai allegedly caused the followers' credit card numbers to be charged on multiple occasions, in excess of the agreed amount and without authorization. If the followers disputed the charges with their respective credit card companies, Annamalai allegedly submitted false documentation to the credit card companies in support of the unauthorized charges.
Commander Selvam is presumed innocent unless and until he is proven guilty.
Ha Ha Ha
Commander Selvam was no ordinary Swamiji.
A self-styled expert in Atharva Veda, Commander Selvam's advertised services encompassed a wide spectrum of 'spiritual' offerings for:
Court Cases, Love Affairs, Boy Friend, Girl Friend, Love Spells, Job, Immigration, DUI, Husband/Wife Illicit Relations, Bad Dreams, Black Magic, Divorce, Separation, Business, Partnership, Drinks & Drug Addiction, Mental Stress and Much More.
Hmm, the man who offered court case and immigration spiritual services to others couldn't fix his own legal and immigration woes.
If you're wondering how Commander Selvam got the 'Commander' title, the man was an ex-member of the Indian Home Guards, where he was supposedly the first youngest Area Commander for Home Guards in Chennai in the South Indian state of Tamil Nadu.