Any doubts over M.Karunanidhi's sanity because of his advanced age were dispelled today when he expelled his son Muthuvel Karunanidhi Azhagiri from the DMK party.
By any yardstick, M.K.Azhagiri is a buffoon and a lout.
Plus, his name notwithstanding Azhagiri is anything but beautiful (azhagu means beauty in Tamil).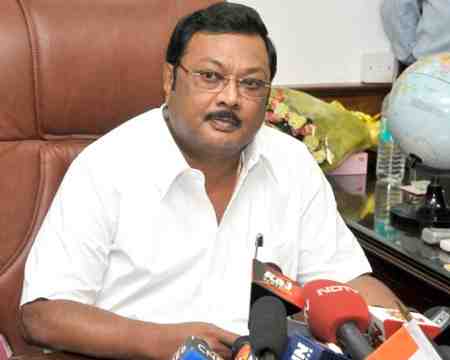 M.K.Azhagiri – Buffoon
(Pix Courtesy: Hindu)
In any civilized nation, beasts like M.K.Azhagiri, 63, would have been locked up in a cage with other quadrupeds and prevented from any contact with humans.
But it's India's misfortune that barbarians like Azhagiri rise to the top thanks to the accident of birth.
Azhagiri's henchmen were involved in the attack on Dinakaran newspaper in Madurai on May 9, 2007 causing the death of three people.
But nothing came of the official investigations into the tragic incident.
There's little doubt that if Azhagiri were not Karunanidhi's son he'd be grazing cows on the outskirts of some village in Tamil Nadu.
Karunanidhi – Dismisses Azhagiri
But even the filial affection Karunanidhi, pater familias of the DMK, harbors for Azhagiri hit a new low when he expelled Azhagiri from the DMK today for "anti-party activities."
There have been rumors of Azhagiri supporting the BJP in the upcoming Lok Sabha elections.
Azhagiri had been suspended from the DMK for anti-party activities in January.
Nurturing an ambition disproportionate to his talents, Azhagiri has been sulking ever since Karunanidhi selected his other son, M.K.Stalin, as his successor a few years back.
Stalin, Azhagiri's younger brother, has been active in building the DMK for several years and believed to be more popular with the party cadres.
At the time of Azhagiri's suspension in January, Karunanidhi made no secret of his displeasure over Azhagiri's bizarre rant about the death of Stalin.
In recent weeks, Azhagiri has been making the rounds of celebrities in Tamil Nadu to drum up support.
The clown even visited Tamil film superstar Rajinikanth.
I wonder if Azhagiri believed reports of Rajinikanth's miraculous powers! 😉
Madurai Bastion
Azhagiri is believed to have a strong base in Southern Tamil Nadu, particularly in the Madurai region.
Contesting the 2009 Lok Sabha elections from Madurai, Azhagiri won handsomely over his CPM rival.
Following his victory, Azhagiri was appointed Union Minister for Chemicals and Fertilizers by Prime Minister Manmohan Singh.
Ignorant of India's two official languages English and Hindi, Azhagiri was mostly a mute spectator in Parliament.
Wikileaks documents allege that Azhagiri was liberal in handing out cash to voters in the 2009 Tamil Nadu Assembly elections.