Tamil Nadu 2016 Assembly Election Results
Flash News: Jayalalithaa to be Next Chief Minister of Tamil Nadu
Crushing Defeat for DMK and Karunanidhi. Many DMK ministers trailing.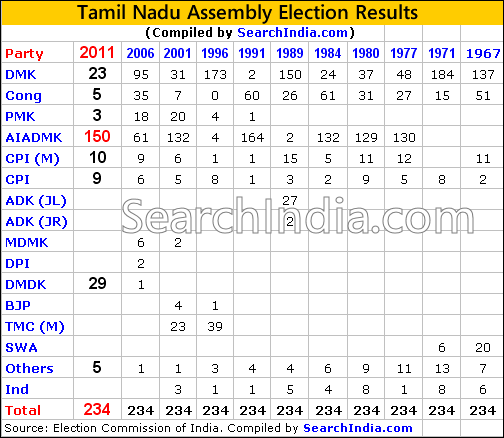 Tamil Nadu Election Updates:
* 2:58PM ET (12:28AM IST) – People have given me proper rest – DMK leader M. Karunanidhi after the humiliating defeat. Enjoy the rest, kelavan (old man).
* 12:14PM ET (9:44PM IST) – Ha ha ha. Chidambaram discovers Congress party in Tamil Nadu has serious limitations. Remarkable discovery given that the Congress in Tamil Nadu has been in coma for over four decades.
10:47AM ET (8:17PM IST) – Good News. Senior DMK minister Anbazhagan loses in Villivakkam.
* 8:45AM ET (6:15PM IST) – Bad News. Karunanidhi wins in Thiruvarur.
* 8:40AM ET (6:10PM IST) – Jayalalithaa may be sworn in Chief Minister Monday.
* 4:20AM ET (1:50PM IST) – AIADMK leader and next Chief Minister of Tamil Nadu J.Jayalalithaa leading by over 20,000 votes in Srirangam.
* 4.10AM ET (1:40PM IST) – Who will the DMK blame for their dismal performance? A.Raja, M.K.Azhagiri, M.K.Stalin, M.Karunanidhi, Kanimozhi, God? 😉
* 3:40PM ET (1:10PM IST) -Will DMK defeat strengthen Maran brothers – Dayanidhi Maran and Kalanidhi Maran? Yes. Karunanidhi and family will desperately need Sun TV now.
*3:30AM ET (1:00PM IST) – Most DMK Ministers are still trailing and will most likely lose their seats. 🙂
* 3:12AM ET (12:42PM IST) – Jaya Ho(credit: Sam)
* 3:10AM ET (12:40PM IST) – Most likely last election for the 87-year-old M.Karunanidhi, leader of the DMK party.
* 3:00AM ET (12:30PM IST) – Fair and Free Elections in India allow people to kick out the idiots, crooks and criminals. Big difference between India and Pakistan. Have they heard of the word Elections in Pakistan?
* 2:45AM ET (12:15PM IST) – AIADMK will most likely not need any partners to form the government.
* 2:35AM ET (12:05PM IST) – DMDK leader and 'actor' Vijayakant leading in Rishivandiyam.
* 2:30AM ET (12:00PM IST) – Good News! Jayalalithaa leading by 5,375 votes in Srirangam.
* 2:25AM ET (11:55AM IST) – Karunanidhi's children Kanimozhi and Azhagiri must be feeling a cold chill thinking of possible prison terms.
* 2:10AM ET (11:40AM IST) – Congress says it will continue alliance with DMK. But sometimes Yes means No in politics. 😉
* 2:05AM ET (11:35AM IST) – Folks, don't you think M.K.Azhagiri will look nice in a prison uniform? 🙁
* 2:00AM ET (11:30AM IST) – The incoming AIADMK government must investigate the violence in Madurai orchestrated by M.K.Azhagiri's henchmen on Dinakaran newspaper in May 2009 in which some people lost their lives.
* 1:55 AM ET (11:25AM IST) – Will Congress Dump DMK? That is the million dollar question now. 😉
* 1:50AM ET (11:20AM IST) – Where did Dhayanidhi Azhagiri's Cloud Nine Movies & Udhayanidhi Stalin's Red Giant Movies get the money for their movie production and distribution business? Dhayanidhi Azhagiri and Udhayanidhi Stalin are the grandsons of Karunanidhi.
* 1:40AM ET (11:10AM IST) – Investigate all members of Karunanidhi's family to check for assets disproportionate to known sources of income.
* 1:35AM ET (11:05AM IST) – Good News. Several DMK Ministers trailing.
* 1:30AM ET (11:00AM IST) – Karunanidhi and family members must be thoroughly investigated through a special commission of inquiry headed by a sitting High Court Judge.
* 1:20AM ET (10:50AM IST) – DMK leader Karunanidhi leading in Thiruvarur.
* 1:15AM ET (10:45AM IST) – Karunanidhi's ambitions to coronate Stalin as Chief Minister derailed.
* 1:06AM ET (10:36AM IST) – Gloom in DMK camp; Celebrations in AIADMK camp.
* 12:56AM ET (10:26 IST) – Jayalalithaa must kneecap the Kalanidhi Maran-led Sun TV if she has to rule without trouble. Sun TV is an unscrupulous outfit, the Fox News of Tamil Nadu.
12:45AM ET (10:16AM IST) – Will defeat lead to infighting or unity among Karunanidhi's family members?
* 12:40AM ET (10:10AM IST) – Jayalalithaa: People of Tamil Nadu are disgusted with the rule of a single family. The results will speak for itself.
* 12:26AM ET (9:56AM IST) – Karunanidhi and his family members have turned the political arena into their private property.
*12:22AM (9:52AM IST) – Barring some big surprises, J. Jayalalitha will be the next Chief Minister of Tamil Nadu
* 12:18AM (9;48AM IST) – DMK is heading for a big defeat.
* 12:12AM ET (9:42AM IST) Folks, the signs don't look good for DMK and its principal ally, the Congress. DMK is trailing by more than 1 to 2 its main rival, the Jayalalitha-led AIADMK.
* 11:45PM ET – God, please let DMK leader Karunanidhi and his kin kiss the political dust today.
Counting of votes has started for the Tamil Nadu Elections to the State Legislative Assembly. SI will update the results as they come in.
Tamil Nadu election results to the state Legislative Assembly will be out in less than 24 hours.
Tamil Nadu, a state in South India, has been groaning under the misdeeds of DMK leader and state Chief Minister Karunanidhi, his family and their cronies.
Not a day passes when new revelations of unsavory activities involving members of Karunanidhi's family or the DMK party do not come to light.
One day it's Karunanidhi's elder son Azhagiri's henchmen going on a rampage in Madurai, a second day it's the disclosure of massive looting in the 2G spectrum allotment and on a third day it's news of several hundred crores given by 2G beneficiaries to Kalaignar TV in which the leader's daughter Kanimozhi is a key shareholder.
The tragedy of Tamil Nadu politics is that the alternative, the AIADMK led by the imperious J.Jayalalitha doesn't offer much solace and comfort to the voters.
To borrow from Greek mythology, voters in Tamil Nadu are caught between the Scylla of DMK and the Charybdis of AIADMK.
Still, a toppling of a corrupt regime is in the best interest of voters.
Tamil Nadu Election Results – 1967-2011
The Congress party has been largely irrelevant in Tamil Nadu politics for well over four decades since the late DMK leader Annadurai swept the elections in 1967.
For the last three decades, the battle in Tamil Nadu has been between the two regional parties, DMK and AIADMK.
In the 2011 elections too, it does not seem the Congress will make much of an impact.
Elections were held for seats to the Tamil Nadu Legislative Assembly on April 13.
Counting starts tomorrow i.e. May 13. A firm trend should be established by 3PM Indian time.
SearchIndia.com will update the below table as the Tamil Nadu election results start coming in.
Tamil Nadu Elections Schedule to Legislative Assembly 2011
Issue of Notification – Saturday March 19, 2011
Last date for making Nominations – Saturday March 26, 2011
Scrutiny of Nominations – Monday March 28, 2011
Last date for withdrawal – Wednesday March 30, 2011
Date of Polling – Wednesday April 13, 2011
Vote Counting – Friday May 13, 2011
Total Seats: 234
Seats Reserved for SCs: 44
Seats Reserved for STs: 2
Total Contestants: 3655
Total Electors as of January 2011: 4,59,50,620
Polling Stations: 54,016
Related Stories:
Tamil Nadu 2016 Assembly Election Results
Karunanidhi Profile
Jayalalitha Profile
M.K. Stalin Profile
M.G.Ramachandran Profile
Annadurai Profile