(By Naveen)
All those who complain that cheap and good stuff don't go together in life have not had a meal at Amma Unavagam (Amma Canteen).
Hey, if it were up to me, I'd even add Amma Canteens to the Chennai tourist circuit (like they have these Dharavi slum tours in Mumbai, Bronx 'ghetto' tours in New York City, Soweto slum tour in Johannesburg, Bangkok Sex tours etc).
Why not sell the poor Brown Black Man's food choices to curious White folks visiting from the West.
Reality tourism sells!
Jayalalitha's Initiative
I came across news of Amma Unavagam a few months ago and it was high on my radar during my current visit to Chennai.
I have been hearing from family and friends about the steep increase in the cost of food in India and it fueled my curiosity about Amma's canteen.
The hotel is named after Tamil Nadu Chief Minister Jayalalitha who is referred to affectionately as Amma (Mother) by Tamils.
There are a bunch of Amma Canteens around Chennai and I picked the one in T. Nagar, the most famous area in all of Chennai.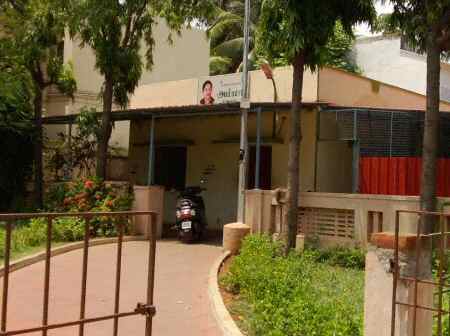 Amma Canteen in T. Nagar, Chennai
After driving in circles in Dhandapani Street, Burkit Road, Boag Road, Thanikachalam Street, Venkatnarayana Road and Thyagaraya Road, I almost concluded that Google maps had it wrong but a wiser inner voice counseled me to ask an idle auto driver for directions. I expected him to call me a Saavugraki, Bemani, or Kasmalam but to my utter surprise he was not only polite but he also gave me the directions!
I finally reached Amma Unavagam too late for breakfast and too early for lunch and hence spent some time in the Pondy Bazaar area listening to loud speakers blaring "songs" extolling the virtues of Amma's arch political rival and nemesis M.Karunanidhi on him turning 90 years old.
The clock struck noon and it was time to return to Amma's canteen
Facilities & Ambiance
Amma Unavagam is meant for low to very low income people.
As one would expect out of a Government run establishment, the hotel has a very deglamorized appearance and it is structured on the same lines as the local liquor bars called TASMAC. The only difference is that his place serves food and not liquor.
Amma Unavagam is definitely far better than the Kaiyendhi Bhavans and road side mobile restaurants. I would even go as far to say it is cleaner and better maintained than many "Messes" and small restaurants.
The all-woman workforce is a pleasant change from other restaurants which employ mostly male workers.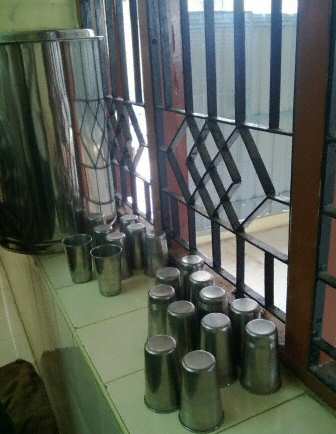 Amma Canteen Steel Water Glasses
The women who serve food were wearing plastic gloves and all the containers, stainless steel plates and water cups were clean.
The biggest surprise to me was the civic sense of forming a line to buy food tokens and receive the food, a trait which I found missing in the educated baboons at the Chennai airport and most other places.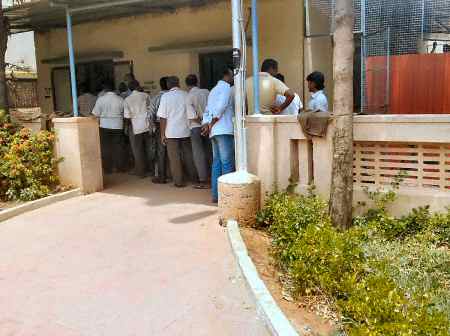 Queue at the Food Counter
All in all, it was a very pleasant experience under the hot and humid Chennai Sun.
The Food
Now, Amma Unavagam is not your fancy fine dining restaurant offering a 7 course meal or lavish choice of appetizers or desserts.
The only options in the lunch menu were Sambar Rice, Lemon Rice and Curd Rice.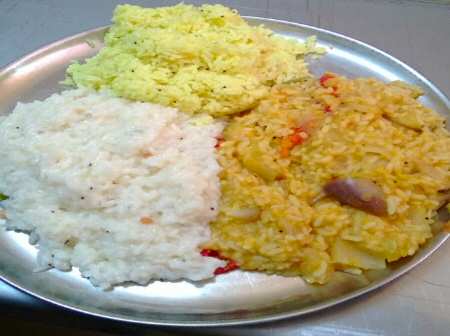 Sambar Rice (right), Lemon Rice (top) and Curd Rice (left)
Being a sapad-raman (glutton), I took one of each and headed towards the food.
Sambar Rice
Sambar Rice got me devilishly excited as it surpassed my expectations right from the first scoop.
It was piping hot, aromatic and spiced to perfection.
The Sambar had an assortment of veggies such as Brinjal, Onion, Radish, Drumsticks and tomato. This is more than what I would find in any regular priced hotel.
Three cheers to the Sambar!
Lemon Rice
The Lemon Rice was nowhere in the same league as Sambar but it was very much edible.
It had the right yellowish color and chunky as one expects but it lacked the zesty lemon taste and it was a bit too mild for my taste.
Curd Rice
I had very little hopes from the Curd rice as it had the least appealing appearance.
However, my skepticism soon vanished after I took the first morsel and found it quite adequate. It was garnished and seasoned nicely with mustard and Hing and thick enough to leave a good taste in the mouth.
However, I could not digest that there was no pickle for the curd rice which is a must have in any Chennai home. There was not even one for sale. I did notice a few people carrying pickle sachets in their pockets.
Note: There are other items for breakfast and dinner which I will try to look into another day if time permits.
Service
Amma's Canteen is a self-service place. You are required to find a place to stand and eat.
Yes! There are no sitting facilities.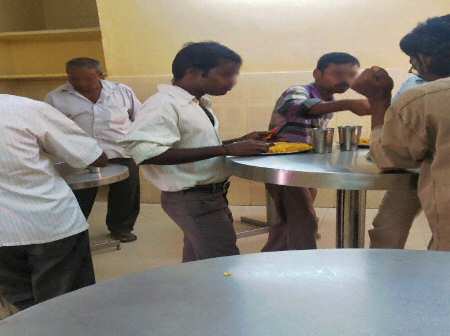 Dining Hall with Standing Room Only
You have to eat using the hand and as far as I can remember there was no spoon / fork etc.
Hence the many wash basins.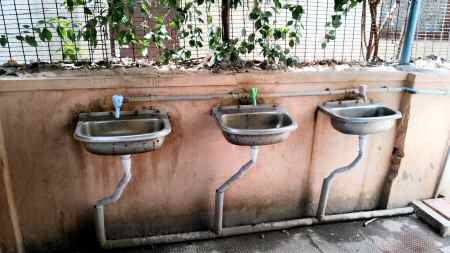 Handwash Basins
You may fill your glass with water as many times as you like and deposit your used plate in a bucket kept for that purpose when you are done.
No tipping required.
No hassles in billing when buying tokens.
Another nice thing is that the lady at the billing counter doesn't haggle for change or hand you a candy for not having exact change.
Amma Canteen – Rating
As mentioned earlier, Amma Unavagam is not your normal restaurant meant for profiting and hence doesn't need a recommendation.
The best part about the whole experience was the total price I paid – Rs. 13.00 (approximately 23-cents)!!
Sambar and Lemon Rice were Rs. 5.
Curd Rice was Rs. 3.
Serving size was two large scoops.
It is not for nothing that the poor worship Amma as a goddess.
Amma Unavagam is a wonderful option for low income people.
Where else can one find a clean place in Chennai that serves reasonably good and filling food at such an incredibly low cost.
Without going into the economics of Amma Unavagam I would say that it is a good initiative and I hope the quality is sustained and the initiative stays.