By Boopalan
Lately, we've grown tired of our familiar dining haunts in Chennai, the Saravanaa Bhavans, the Sangeethas, the Vasantha Bhavans and the Anjappars.
We thirsted and hungered for a change.
And so, when the suggestion came from SI to review Chennai's famed Murugan Idli Shop, a 100% vegetarian South Indian restaurant, we smacked our lips in anticipation.
After all, these Murugan Idli peddlers are the talk of the town.
And the mere mention of Murugan's sui generis Idlis has even grown men drooling a mini-puddle into the carpet.
So in the spirit of film-maker Woody Allen's famous quip that 80 percent of success is just showing up, we showed up at Murugan Idli Shop at Besant Nagar (Elliots Beach, Chennai) for breakfast today.
Crowded Place, Poor Ambiance, Lazy Staff
We did not set our expectations high given our past unpleasant experiences at some well known South Indian restaurants in Chennai like Saravana Bhavan and Anjappar.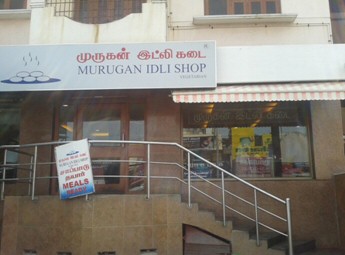 Besant Nagar Outpost of Murugan's, Chennai
As we entered Murugan Idli Shop, our first thought was whether we'd mistakenly stepped into a college mess hall. You see, there were long rows of tables formed by joining them together.
Including an inner room (that was closed for service during our visit), there are about 50-60 seats at the Besant Nagar outpost of Murugan Idli Shop.
In a resounding testament to the restaurant's immense popularity, almost all the seats were occupied with people blissfully oblivious to anything but the food in front of them.
The diners looked to be mostly from the South with a small sprinkling of North Indians. There was even a lady from the North-east with a kid who placed her order in Tamil!
Luckily, we quickly found a corner with seats that had just been vacated.
The lazy bozos at Murugan Idli Shop did not care to clean the table or take down our order. They showed no inclination of doing so until we got hold of one of them and asked them to do it. And when they did it, it was accomplished so indifferently and inadequately.
Cheapo yet Clever Way of Serving Food & Water
We were excited to see plantain leaves being used to serve the food, transporting us into a fond reverie of childhood days in our native towns.
As we were on our plantain-leaves nostalgia trip, our eyes fell upon an unusual item that was similar to water 'tumblers' (as water-glasses are known in Tamil Nadu) but with holes in its body making it incapable of holding any water.

Tricky Tumblers and Plantain Leaves
Soon we realized the 'implementation' of the Murugan 'tumbler' methodology. We noticed that they had put disposable water cups into the holed tumblers.
Those containers were meant to provide you with a better grip to hold the water-filled disposable cups and trick you with the feel of drinking from the 'tumbler' itself.
Well, we haven't encountered such a novel way of serving water anywhere else.
Murugan Idlis – Delicate Darlings
Idlis occupy pride of place in the Tamils' dietary pantheon and are a regular sight at breakfast and/or dinner.
We've had Idlis of all kinds in our life time. Some so soft and light that they need paperweights to keep 'em from flying. Others so hard that they could easily double as paperweights or be used in lieu of jelly-stones in road construction projects.
Thankfully, we did not end up with the latter variety at Murugan Idli Shop.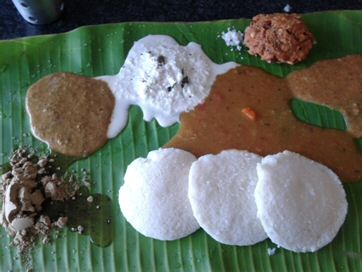 Murugan Idlis – Ah, Yummy Delicate Darlings
It took a little over five minutes for our Idlis to arrive.
The dazzling Idlis at Murugan Idli Shop came accompanied by pretty bridesmaids in the form of various Chutneys and Sambar.
Boy, these Idlis are yummy, soft, tasty and such delicate darlings.
Guys, we ain't had nothing like these Idlis nowhere.
The French expression nonpareil describes Murugan's Idlis perfectly.
Yes, they definitely do full justice to the restaurant's name 'Idli Shop.'
Murugan serves three Idlis at one go.
Delicious Coconut Chutney, Ginger Chutney and Tomato Chutney along with Sambar quickly materialize without requiring any Babas to magically wave their hands.
The waiters act swiftly to ask if you'd like some Podi with Oil, and you're all for it with gusto. But in an unnoticeable corner of the restaurant's walls, there hangs a rude awakening sign – "Extra Charges for Podi and Oil" – giving you a slight hiccup.
Podi must have been so famous in the initial days that Murugan went on to charge for it separately to rein in the gluttonous hordes and simultaneously add to its coffers.
Each Idli costs Rs.11 (i.e, a plate of Idlis costs around Rs.33), but they disappeared so fast into our cavernous stomach leaving us with a nagging suspicion whether we really ate something worthy of Rs.33. Yet, we ignored the niggling feeling, given the heavenly taste of the Idlis.
Now, which self-respecting Tamil eats Idli without also partaking of its twin brother Vadai.
But for a change, we opted for Masala Vadai (Rs 15 per piece), instead of the commonplace Medhu Vadai.
The Masala Vadai was on par with the Idlis in terms of quality and taste and left no room for complaint.
Butter Dosai – Coulda Been a Better Dosai
To satiate our gargantuan appetite, we ordered Butter Dosai (Rs 40) following our glorious Idli-Vadai adventure.
Plus, we were also curious to check out how Murugan's Butter Dosai differed from the Ghee Dosai.
Alas, there's no difference. 🙁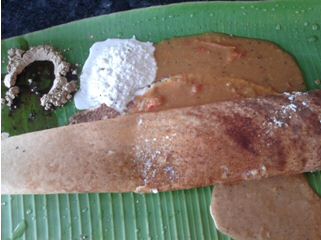 Murugan Butter Dosai – Can be Better Dosai
Butter Dosai is accompanied by the same variety of Chutneys and side dishes as the Idlis.
Our Dosai was a wee bit over-roasted in some places.
While we'd still place it in the tasty section, Murugan Idli Shop's Dosai falls into the "needs-improvement" category.
"Murugan Jigarthanda"– Sweet, Sweeter, and Sweetest
What's a meal without a sweet finale, right?
So we checked up with our server again to find out what desserts were available.
Unfortunately, during our visit Murugan Idli Shop did not offer any sweet temptations except carbonated drinks and "Jigarthanda."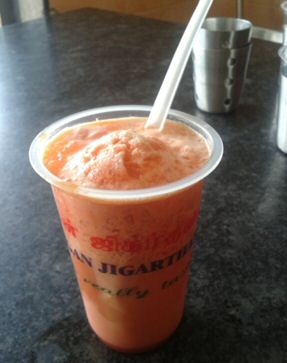 Jigarthanda – Sweet Delight
While a mention of Jigarthanda (Rs 35) might elicit blank stares from even native Chennaiites, those from the famous temple city of Madurai in southern Tamil Nadu have been slurping it for a long time.
Jigarthanda is a sweet delight that's said to be made up of Badam Jelly [we have no clue what this item is], Ice Cream and Basandi.
Machi, it sure looks good.
As you drink the Jigarthanda, the sweetness increases toward the middle and reaches its peak toward the end of the glass to such a cloying extreme that some might even consider abandoning it.
Unlike the divine Idlis that had us wet between our legs, the Jigarthanda was just okayish .
No Cards, Only Cash
If you're heading to Murugan Idli Shop, make sure you go with your wallets loaded with credit cards cash.
These guys simply refuse to accept any Credit Cards.
Is the rejection of credit cards related to the Income-Tax raids at Murugan Idli Shop? 😉
Go for it, Folks
Overall, we were pretty much delighted with the Idlis at Murugan Idli Shop.
These Idlis live up to their vaunted reputation.
But the other things including Butter Dosai, staff behavior and ambiance need to improve.
By the way, the lunch menu at Murugan Idli Shop is more expansive and includes Full Meals, Lemon Rice, Curd Rice, Sambar Rice and more.
If you're visiting Chennai, you'd be a schmuck not to keep Murugan Idli Shop on your culinary itinerary.
Related Content:
Idli profile on Wiki