The antics of Telugu biddas in Amreeka never ceases to surprise the Indian diaspora.
It seems like not a day passes in Amreeka without another Telugu bidda doing something crazy.
One day Telugu biddas are kidnapping and murdering babies; the next day they are strangling their spouses; the third day they're groping grandmothers on flights; the fourth day they're caught in a Medicare drugs scandal; the fifth day they're stabbing their spouses and children and running off to Andhra Pradesh with the FBI hot on their trail.
And on the sexth day they're running after Randis (hookers) in Yandamuri County a.k.a. Montgomery County.
Devuda! Devuda!
Hooked in Police Sting
Just the other day, Telugu bidda Udaya S. Neellagutta fell hook, line and sinker in a police sting to catch Johns (men who visit prostitutes) in Pennsylvania.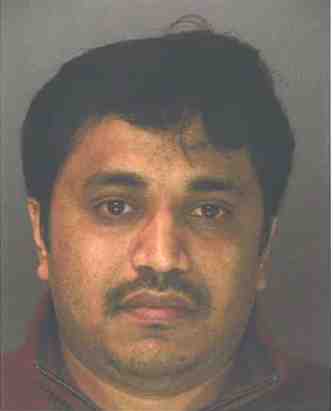 Udaya Neellagutta – Falls into Police Net
Montgomery County Police Department arrested Udaya Neellagutta of East Norriton (Pennsylvania) on April 11 in a well-planned sting operation by Montgomery Township Police Department and the Montgomery County Detective Bureau that also nabbed nine other Johns.
What makes Neellagutta's arrest bizarre is that Montgomery County authorities had announced on February 21 that local cops would be going after Johns via sting operations.
Don't people read the newspapers?
The cops were targeting human trafficking and prostitution in the Montgomeryville section of Montgomery Township.
Crafty police officers placed an online advertisement offering prostitution services. Apparently, the police were deluged with hundreds of text messages and phone calls in response to their fake hooker ads.
Neellagutta allegedly agreed to pay money for sexual services prior to his arrest at a hotel.
The Telugu bidda has been charged with patronizing prostitutes on April 11, 2014 under Section 18 § 5902 §§ E of the Pennsylvania Crime Code which states:
Patronizing prostitutes.–A person commits the offense of patronizing prostitutes if that person hires a prostitute or any other person to engage in sexual activity with him or her or if that person enters or remains in a house of prostitution for the purpose of engaging in sexual activity.
Neellagutta's preliminary hearing is set for May 30, 2014 in the Montgomery County court of Magisterial District Judge Andrea Hudak Duffy.
Patronizing a prostitute is a third-degree misdemeanor in Pennsylvania for first-time offenders carrying a maximum penalty upon conviction of up to 12 months in jail and a $2,500 fine.
Not a Big Crime
Running after hookers is hardly a major crime.
Hell, our Mayors, Senators, Congressmen and Governors have all run after hookers.
I can't recollect any of our politicians being arrested for their hooker antics.
Vegas would go bust without its charming hookers!
Isn't it time we legalized the oldest profession in the world? Prostitution is already legal in parts of Nevada.
Taxpayers on the Hook
It seems Neellagutta has money for hookers but lacks the wherewithal for hiring an attorney to defend himself.
Following the Telugu bidda's request for a Public Defender, he's being provided with the services of one.
Neellagutta will turn 31 on June 1, 2014.