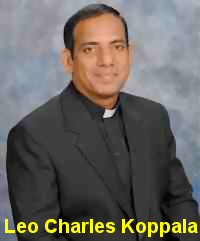 The U.S. Immigration and Customs Enforcement has deported Father Leo Charles Koppala, a 47-year-old Catholic priest from Nellore diocese in the South Indian state of Andhra Pradesh, to India following his conviction of sexually assaulting a minor under 13 years old.

Koppala pleaded guilty on March 17, 2014 to second degree sexual misconduct of fondling a child, which is a felony in Minnesota. His victim was 12-years-old when Koppala sexually assaulted her.
At the time of his arrest on June 8, 2013, Koppala was working as Pastor of Saints Peter and Paul Church, in Blue Earth, Minnesota.
Koppala signed a plea deal to avoid jail time.
Following Koppala's agreement not to contest his deportation, a federal immigration judge on April 1, 2014 ordered his deportation to India.
Koppala's deportation happened on May 14, 2014 when he was escorted by ICE officers on a commercial flight and turned over to Indian authorities in New Delhi.
Koppala is hardly the first Catholic priest to get into trouble for sexually assaulting  children.
Several Catholic priests in America have played sexual havoc with dozens of young children over decades, a horrible development that has triggered multiple lawsuits in recent years and huge payouts by the church to victims.