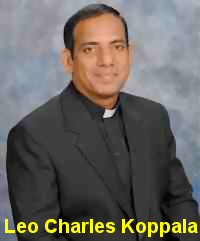 Catholic priest Father Leo Charles Koppala of Nellore, Andhra Pradesh, struck gold yesterday with a sweetheart plea deal in Minnesota that will not see him go to prison for fondling a 11-year-old child.

On Monday, Leo Koppala, 47, pleaded guilty before Judge Douglas Richards to second degree sexual misconduct of fondling a child, which is a felony in Minnesota.
Under Section 609.343 of the Minnesota Criminal code, a person convicted of second degree sexual misconduct faces a maximum sentence of 25 years in prison and a $35,000 fine.
But media reports say that the plea deal will not require any jail time for Koppala, the former Pastor of Saints Peter and Paul Church, in Blue Earth, Minnesota.
It is not clear if Koppala will be required to pay a fine.
Since Koppala is an Indian citizen, he faces possible deportation to his homeland for his crime.
Koppala's formal sentencing will happen on March 31, 2014, at which time more details will likely emerge on the plea deal.
Prior to becoming Pastor of Saints Peter and Paul Church, Koppala worked as a Priest at the Nellore Diocese in the South Indian state of Andhra Pradesh.
Case Background
Leo Koppala was arrested on June 8, 2013 on charges of fondling a 11-year-old child the previous day.
According to a complaint filed in the District Court for the Fifth Judicial District of Minnesota,, Koppala was invited to dinner by a local "Grandmother."
The complaint alleges that when grandma was on the phone Koppala kissed the 11-year-old young girl on the cheek and lips, touched her breasts, told the girl he loved her and would come to her house after she was done with school so that they could be free together.
The priest from Andhra Pradesh spent about 30 days in the Faribault County Jail before being released on $75,000 bail on July 8, 2013.
Porn on PC
Following his arrest, Koppala was placed on administrative leave by the Diocese of Winona on June 10, 2013.
Porn videos were found on Koppala's PC after his arrest. But that's not a big deal since porn is a favorite American past time. In House of Cards (Season 2), even Vice President Frank Underwood (Kevin Spacey) watches porn on his laptop in front of his Secret Service agent. No kidding! I wouldn't be surprised if Obama and his veep Joe Biden unwind after a stressful day of dealing with Russia's annexation of Crimea with naughty films. 😉
Koppala – Sweet Deal
The ease with which Koppala got off suggests the Blue Earth (MN) police may not have properly handled his Miranda rights while interrogating him initially.
Koppala's attorney Philip J. Elbert made a strong argument during a court hearing on December 16, 2013 that his client's initial statements to the police should be suppressed because of inadequate Miranda warnings.
Elbert also brought up contradictory reports about the nature of Koppala's fondling from two different sources.
So given the uncertain outcome of litigation, the prosecution may have offered Koppala a no-prison plea deal in exchange for his guilty plea.
For Leo Charles Koppala, who turns 48 on April 19, there could not be a better birthday gift than the plea deal.