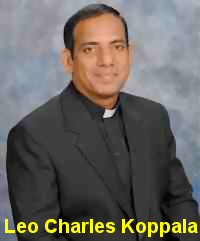 Father Leo Charles Koppala, a 47-year-old Catholic priest from Nellore diocese in the South Indian state of Andhra Pradesh, has been ordered to register as a predatory sex offender in Minnesota and barred from contact with females under 18.

On March 17, 2014, Koppala pleaded guilty before Judge Douglas Richards to second degree sexual misconduct of fondling a child, which is a felony in Minnesota.
At the time of his arrest last June, Koppala was working as Pastor of Saints Peter and Paul Church, in Blue Earth, Minnesota.
Koppala signed a plea deal that will see him avoid jail time.
Conditions Imposed
Judge Richards Richards sentenced Koppala to 36 months in jail but awarded him probation.
The judge stayed the Andhra priest's sentence, as long as he abides by the probation terms.
Media reports say Richards has placed Koppala on supervised probation for 25 years.
Other restrictions imposed on Koppala by Judge Richards following the Andhra native's guilty plea include:
* Serve 31 days in jail (with credit for time served)
* Offer his DNA sample
* Follow recommendations of a psycho/sexual evaluation
* If therapy is recommended by the evaluation, Koppala must enroll and complete the program
Meanwhile, there are reports that Immigration and Customs Enforcement has taken Leo Koppala into custody.
Most likely, Koppala will be deported back to India in a couple of months.
Koppala Case Background
Leo Koppala was arrested on June 8, 2013 on charges of fondling a 11-year-old child the previous day.
According to a complaint filed in the District Court for the Fifth Judicial District of Minnesota, Koppala was invited to dinner by a local "Grandmother."
The complaint against Koppala alleges that when the grandmother was on the phone Koppala kissed the 11-year-old young girl on the cheek and lips, touched her breasts, told the girl he loved her and would come to her house after she was done with school so that they could be free together.
The Andhra Pradesh priest spent about 30 days in the Faribault County Jail before being released on $75,000 bail on July 8, 2013.