And I don't know what to say about my daughter Soundarya who directed this picture.

I saw the picture.

After seeing the picture, I told her. "Soundarya, I'm proud of you. And definitely the whole nation will be proud of you. Congrats."
– Tamil film star Rajinikanth boasting about Kochadaiiyan and his daughter Soundarya
Ha ha ha ha.
What is that alcohol-loving Rajinikanth high on? Kalla Sarayam? Care to share some with us, Rajini-Can't? 😉
People are spitting on Soundarya's face for the pathetic quality of graphics in Kochadaiiyan.
And this jackass Rajinikanth is spinning a tall yarn about his little twit's "great achievement."
Shameless wretch!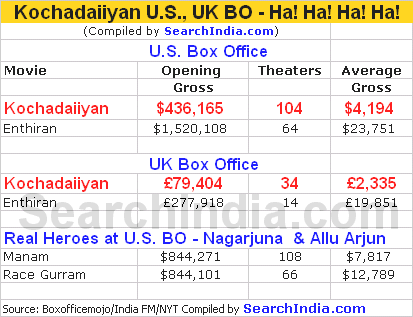 Paper Tiger
Now is the time for all wise men to accept the truth.
Rajinikanth is a paper tiger!
A tiger who roars only when he has directors like Shankar to call the shots.
Not when he has little twits to "mis-direct" him.
Despite a long weekend (thanks to the Memorial Day holiday in the U.S.), despite the endless hype about the first Indian motion-capture film and despite all the favorable reviews from friendly media, Rajinikanth's latest film Kochadaiiyan has fared miserably in certain key overseas box office circles compared to his previous film Enthiran.
For the opening May 22-25, 2014 weekend, Kochadaiiyan grossed a mere $436,165 at the U.S. box office (less than a third of Enthiran).
Kochadaiiyan's fate was no different in the UK. Again, the movie grossed less than a third of Enthiran.
Kochadaiiyan has come in for some serious mauling at the hands of respected critics like Raja Sen who wrote:
This is a loud, unforgivably tacky production, handicapped not merely by substandard animation but a complete lack of imagination.
By the way, collections from Hindi and Telugu versions of Kochadaiiyn are insignificant.
So why were Kochadaiiyan's BO collections so low in the U.S. and UK?
Simple answer folks – Overseas Tamils are not as dumb as their Indian counterparts!
Telugu film Manam  (Akkineni x 3), which also released May 22 in the U.S., grossed nearly twice the figure of Kochadaiiyan.
Hell, my Tollywood bête noire Allu Arjun's Race Gurram, which debuted in the U.S. a few weeks back, has fared far better than Kochadaiiyan in its opening weekend.
If Kochadaiiyan collections proceed along the current trajectory, its U.S. producer/distributor Eros International and exhibitors could end up with considerable red ink on their books!