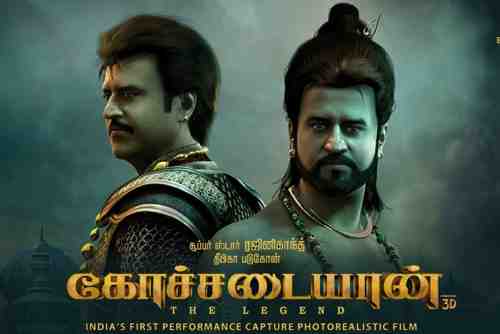 So much ink was spilled on big budget Tamil movie Kochadaiiyaan (Rajinikanth, Deepika Padukone) by fawning scribes and reviewers about how the motion-capture film heralded an epochal moment in Indian movie history.
Yet there's nary a report on how much the Rs 150-crore film lost given its ho-hum response at the box office.
I wouldn't be surprised if Kochadaiiyaan turns out to be the biggest disaster in Indian movie history.
Conspiracy of Silence
After the endless pre-release hype, a conspiracy of silence clouds Kochadaiiyaan's losses.
Why this strange silence?
Simple, kiddo – Because so many people now have egg on their faces that they'd rather not be reminded of their inane predictions about the movie!
Even Kochadaiiyaan's producer Eros International has turned silent on its box office fate after prematurely ejaculating over the "Power of Thalaivar" and boasting that the "film has set a new milestone in the history of Indian cinema."
Trumpeting a "blockbuster opening weekend" of Rs 42-crore of "an epic dramatization of good versus evil," Eros claimed to be "seeing an overwhelming demand for a prequel or a sequel."
After that, only radio silence from Eros.
Ha ha ha ha! 😉
Some Thalaivar. Some Milestone!
Eros and several of the smaller exhibitors must be singing a dirge now.
The big question now is whether Rajinikanth will compensate small-time theatre owners/exhibitors like he did a few years back when Baba sank at the box office.
Kochadaiiyaan debuted in 2D and 3D on May 23, 2014 in six languages on 3,000 screens worldwide.
Rajinikanth – Paper Tiger
Rajinikanth is indisputably a paper tiger whose talent and massive fan following have been wildly exaggerated by Tamil producers and distributors desperate to cash in at a fickle box office.
Most Rajini films I've seen are as trashy as any Tamil movie featuring Simbhu, Vombhu, Kombhu, Jeeva, Mava, Kova et al.
A mediocre actor at best, Rajinikanth's fame owes in significant part to his humble origins. Movie fans love rags-to-riches stories since they ceaselessly fantasize of such improbable events changing their dreary lives.
Folks, given the conspiracy of silence on Kochadaiiyaan's performance at the box office please vote your estimate of the film's losses below.
[poll id="12″]