Chutiya programmers a.k.a. Indian coders are all over the place.
From Hicksville in New York to Sunnyvale in California to Geneva in Switzerland, I've spotted Indian code monkeys in buses, trains, Indian restaurants, parks, office towers and tourist attractions.
With all these tens of thousands of Chutiyas strutting around and poring endlessly over their computers, you'd think our people would be aces at programming.
Alas, No!
According to a ranking by TopCoder.com, Indian programmers are a pathetic #19, behind Russia, China, Poland, Japan, Ukraine, US, Belarus, Iran, Brazil, Croatia, Slovakia, Vietnam, Bulgaria etc.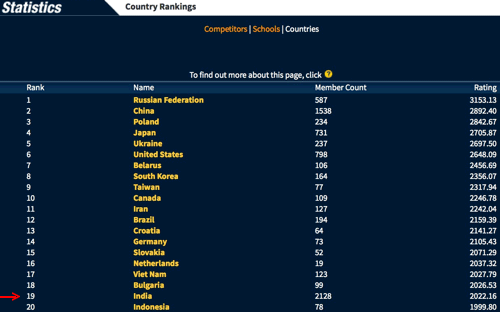 TopCoder says its country rankings are based on an aggregation of members within a particular country that have competed within the last 180 days. It seems the site uses a rating system where if all coders from a particular country have the same rating, then that country's would be the same as the individual ratings. Apparently when coder ratings differ, the country rating is based mostly on the top rated coders.
TopCoder's says its goal is to to provide a better way to rank countries than a simple average.
Indian Coders – Low Ranking
Why do Indians coders rank so low?
Because Indians have no imagination.
It's no exaggeration to say that Indians are the most unimaginative cocksuckers walking this planet.
Be it movies, coding, music or any other field, the Indian mentality is to steal, cram, blow and regurgitate.
That's the reason you never see these Chutiyas create anything original or noteworthy but always toil at some low-level tasks at the bottom of the programming food chain.
While part of the blame must be assigned to the Indian educational system that encourages rote learning, some blame must also go to the food these Chutiyas gorge on.
I'm a fervent believer in We are What We Eat.
Given the proclivity of Indian programmers (majority are from South India) to stuff themselves with brain-numbing food like Dum Biryani, Chepala Pulusu, Gutti Vankaya, Gongura Chicken, Menthi Koora Pappu etc, it's no surprise Indians barely manage to type some gibberish and delude themselves and the world that they too are coders.