I'm proud to be gay, and I consider being gay among the greatest gifts God has given me.
– Apple CEO Tim Cook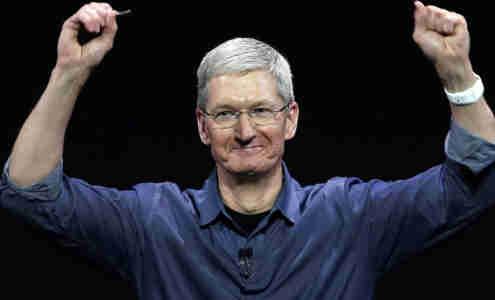 Apple CEO Tim Cook – Yippee, God made Me Gay
(Image courtesy: Business Insider)
Being rich and famous brings one undeniable advantage.

You can not only get away with drooling out the most nonsensical statements but fawning putzheads will applaud seeing courage and wisdom in your drivel.
Take Apple CEO Tim Cook for instance.
The man is all over the news today because he's just proclaimed that being a cocksucker is God's greatest gift.
Now there's absolutely nothing wrong or immoral in being a cocksucker or delight in getting fucked in the fanny (I happen to believe homosexuality is more a genetic, pre-determined affair than a matter of individual choice).
Your anterior and posterior orifices, body appendages and openings are yours to do with what thrills you the most.
But the twaddle that cock-sucking is God's greatest blessing can come only from a dickhead.
God has absolutely nothing to do with your passion to blow your partner, rim him, take his schlong up your backside or shove yours up his Hershey-hole. Merely your raging hormones at play.
It's bad enough that billions of Earthlings continue to cling to the ridiculous fiction of God's existence in the face of rampant injustice.
But for a public figure like Tim Cook to add cocksucking and assfucking to the asinine catalog of God's "greatest" blessings is insane.
Why rely on the crutch of a non-existent God to defend your different sexual orientation. Beats me.
What next?
Nuclear weapons are God's greatest gift to humans?