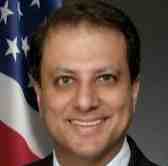 Well, to be precise Preet Bharara did not compare Rikers Island prison in NYC with India's notorious prisons.
But in condemning alarming levels of violence against adolescents held at Rikers Island correctional facility, Bharara may have discovered that Rikers Island is as bad as hell-hole prisons in his native India where horrific ill-treatment of inmates is the norm.
Following a multi-year investigation on use of force by prison staff, inmate-on-inmate violence, and use of punitive segregation during 2011-2013, Bharara's office found "a pattern and practice of conduct at Rikers Island that violates the rights of adolescents."
Bharara's office discovered rampant use of unnecessary force by NYC prison staff against adolescent inmates and frequent resort to punitive solitary confinement. On any given day in 2013, 15-25% of Rikers Island inmates were thrown into solitary confinement.
Not Convicts
Rikers Island prison staff's favorite area of attack on inmates are the heads or faces, potentially dangerous spots that can lead to serious injuries or fatalities.
Compounding the tragedy, most adolescent inmates at Rikers Island are pre-trial detainees, not convicts. And many of these youngsters could be found innocent later in a court of law.
Here's what Devyani Khobragade's nemesis Preet Bharara had to say about the horrible violence against adolescents at Rikers Island prison (located just outside Manhattan):
As our investigation has shown, for adolescents, Rikers Island is a broken institution. It is a place where brute force is the first impulse rather than the last resort; where verbal insults are repaid with physical injuries; where beatings are routine while accountability is rare; and where a culture of violence endures even while a code of silence prevails. The adolescents in Rikers are walled off from the public, but they are not walled off from the Constitution. Indeed most of these young men are pre-trial detainees who are innocent until proven guilty, but whether they are pre-trial or convicted, they are entitled to be detained safely and in accordance with their Constitutional rights – not consigned to a corrections crucible that seems more inspired by Lord of the Flies than any legitimate philosophy of humane detention. These young men, automatically charged as adults despite their age under New York law, may be on an island and out of sight, but they can no longer remain out of mind. Attention must be paid immediately to their rights, their safety and their mental well-being, and in the wake of this report we will make sure that happens one way or another.