Former McKinsey chief Rajat Gupta is begging the court not to send him to prison.
One of the principal grounds for Gupta's plea is that he had led an exemplary life and that his criminal conduct was an aberration.
Gupta's lawyers told the court their client would like to do community service in the U.S. and Rwanda instead of going to prison.
A federal jury in New York City found Rajat Gupta guilty of insider trading and convicted Gupta on three counts of securities fraud and one count of conspiracy on June 15, 2012.
A close business associate of the jailed hedge fund billionaire Raj Rajaratnam, Gupta passed along confidential corporate information to Rajaratnam who then made huge amounts of money by illegally trading on those tips.
Gupta was an investor in Rajaratnam's Galleon fund.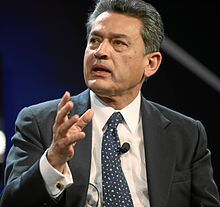 Indian-American Crook Rajat Gupta
In a filing made to the Southern District Court in New York on October 17, 2012, 64-year-old Rajat Gupta's lawyers are asking the court to award:
a sentence of probation with the condition that Mr. Gupta undertake a lengthy and rigorous program of community service, [that] is sufficient to effectuate the general deterrence objective.
10-Years for Rajat Gupta
Preet Bharara, the federal prosecutor in the case against Rajat Gupta, is in no mood to agree to letting Gupta off the hook so easily.
Bharara is asking for a prison term of 97-months-121 months for Gupta.
Disagreeing that Gupta's criminal conduct was a deviation, Bharara wrote to the court on October 17, 2012:
Although Gupta's criminal conduct appears to represent a deviation from an otherwise law-abiding life, Gupta's crimes were not an isolated occurrence or a momentary lapse in judgment. Indeed, the opposite is true. Gupta repeatedly tipped Rajaratnam with corporate secrets for nearly two years. And the ease with which he disclosed confidential information to Rajaratnam in the July 29, 2008 wiretapped conversation reflects the total disregard he showed for his fiduciary duties and the callousness with which he handled confidential information.
Despite being an immensely wealthy man with homes in Westport (Connecticut), Florida and Colorado, Gupta's behavior demonstrated an arrogant contempt for the law.
We agree with Preet Bharar's argument that "a significant term of imprisonment is necessary to reflect the seriousness of Gupta's crimes and to deter other corporate insiders in similar positions of trust from stealing corporate secrets and engaging in a crime that has become far too common."
SearchIndia.com feels Rajat Gupta should not only be sent to jail for the maximum term of 121 months but also thrown into the general population without any special privileges.
Failure to strongly punish Rajat Gupta would undermine public confidence in fair and equal justice for all.
U.S. District Judge Jed Rakoff will sentence Rajat Gupta on October 24, 2012.
Court Documents:
Indian Crook Rajat Gupta Begging the Court Not to Send Him to Prison
Federal Prosecutor Preet Bharara Wants Rajat Gupta to go to Prison for 10-Years
Rajat Gupta Indictment
SEC Complaint Against Rajat Gupta