After a recent high profile court battle against NYC Indian diplomat Devyani Khobragade for visa fraud over her maid's monthly salary, U.S. Attorney for the Southern District of New York Preet Bharara is now going after aam aadmi (average Indians) in the U.S. for alleged student visa and financial aid fraud.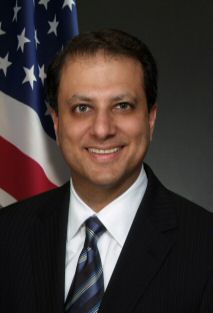 Preet Bharara
Aam Aadmi Fraudsters
Five desis were arrested in New York City late last month and charged with student visa and financial aid fraud.
Suresh Hiranandaney, Lalit Chabria, Anita Chabria and Seema Shah were charged with student visa fraud and wire fraud, while Suresh Hiranandaney, Lalit Chabria, Anita Chabria and Samir Hiranandaney were charged with student financial aid fraud.
The alleged crimes involve two for-profit schools (Micropower Career Institute and Institute for Health Education) controlled by Suresh Hiranandaney and his close relatives. The two schools together are said to have enrolled hundreds of students.
Except Seema Shah, the other defendants have close family ties to Suresh Hiranandaney.
Bharara charged the defendants with making false certifications about the schools' compliance with visa and financial aid regulations.
Here's what Bharara's office had to say about the alleged Visa fraud:
The defendants represented to immigration authorities that MCI and IHE were legitimate institutes of higher learning where foreign students carried full course loads. In reality, the majority of foreign students at MCI and IHE did not attend the required number of classes. Rather than reporting this to authorities, as required, the defendants remained silent and continued to collect approximately $10,000 in annual tuition from each of these students. When a campus of MCI came under regulatory scrutiny, the defendants would simply transfer students with delinquent attendance to an affiliated school (such as another MCI campus or IHE) that was not under scrutiny.
I wonder how many of the foreign students were Indians.
Student Aid Fraud
The charges on student aid fraud relate to failure to adhere to regulations of Pell Grants provided by the U.S. Department of Education for low income students enrolled at Micropower Career Institute.
Pell grants are made by the Education Department to the institution in which a student is enrolled. The institution then credits the student for charges like tuition fees.
Bharara's office alleges that files of many MCI students were "fixed" to address deficiencies before a program review by the Education Department.
Of course, all defendants are presumed innocent unless and until proven guilty.
Target NJ Businesses
We hope New Jersey prosecutors will take a page from Bharara's enforcement book and examine Indian small businesses in Edison, Iselin and Jersey City.
Who knows what can of desi worms NJ prosecutors will unearth! 😉