Just how ambitious is US. Attorney for the Southern District of New York Preetinder Singh Bharara?
If you ask me, Bharara is ambition on steroids.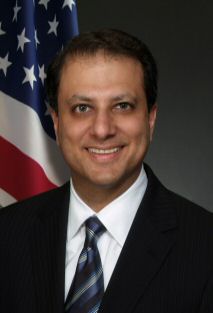 Who is Bharara?
Okaaaay, so you've been hiding under a rock these last few years.
Born in Firozpur, Punjab (India) to a Sikh father and Hindu mother, Preet Bharara moved to the U.S. when he was two.
A naturalized American, Bharara became U.S. Attorney for the Southern District on August 13, 2009 thanks to his former employer New York Senator Chuck Schumer for whom he served as Chief Counsel.
Bharara has been in the limelight lately because his office is prosecuting former NYC Indian diplomat Devyani Khobragade in the visa fraud case. His office has also been involved in prosecuting other high profile South Asian criminals like Raj Rajarathnam, Mathew Martoma and Rajat Gupta.
One way to assess the ambitions of young public officials is to look at the number of press statements put out by their offices.
Hyper-ambitious public officials thrive on the oxygen of publicity.
So I set out to examine where Preet Bharara stands vis-a-vis other NYC prosecutors (both federal and state) in issuing press releases.
To avoid burst in activities triggered by high profile cases like Devyani Khobragade, I examined the total number of press statements put out by Bharara's office and compared it to other New York area prosecutors over a 16-month period.
I took a dekko at the offices of two federal prosecutors and five state prosecutors (District Attorneys) in the New York area.
Bharara – A Publicity Hound
And what do I find?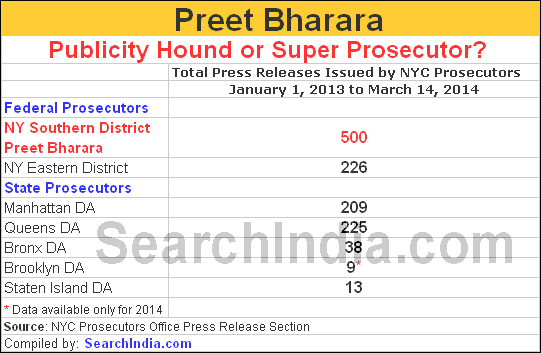 When it comes to putting out press statements, Preet Bharara's office towers over all federal and state prosecutors in the New York area by a huge margin.
The U.S. Attorney's Office for the Eastern district of New York, the closest contender to the Bharara-led Southern District, does not even offer half the statements put out by the Southern District – 226 vs 500.
The Manhattan District Attorney's office led by Cyrus R.Vance Jr, with a larger staff of attorneys than Bharara's office, comes in fourth at 209 press releases over a 16-month period.
Does that mean Cyrus Vance is not as competent as Preet Bharara in prosecuting crime? Or does Bharara have a hyperactive PR machine?
Now when you consider the astounding number of press releases issued by Bharara's office, the man must either be a publicity hound or a workaholic super prosecutor who outshines his peers in the New York area by a huge margin.
The web site for Bharara's office even has special sections for speeches and press conferences with videos to promote him mainly. (By the way, the U.S. Attorney's Office for the Eastern District of New York does not have these sections.)
If you add Bharara's eight speeches and 12 press conferences listed under the News section of the Southern District web site, his Publicity tally for the 16-month period goes up to a stupendous 520.
You might want to ask yourself what is Bharara trying to accomplish by promoting himself so relentlessly.
A public official promoting himself the way Bharara does is unseemly and makes me uneasy.
Bharara – No Super Prosecutor
By virtue of the Southern District of New York's jurisdiction (Manhattan falls under it), a lot of high profile cases fall into Bharara's lap.
Bharara has the jurisdiction advantage like some people have the color (White) advantage, a few have the twerking (Miley Cyrus) advantage and others have the born-to-wealth advantage (heard of the Bollywood duffer Abhishek Bachchan?).
Given the magnitude and widespread havoc triggered by Wall Street's crimes, Bharara's victories (including asset forfeitures, penalties etc) are chicken shit. Peanuts!
Also, I do not believe that other prosecutors in the New York area are so far behind Bharara's office in the quality and quantity of their work.
Looking at the nature of the Southern District's cases and wins over the last 16 months, I'd place Bharara merely in the "Average"  category, most definitely not in the Super Prosecutor category.
But the man is definitely a Super Self-Promoter who through his PR machinery super-sizes his minor victories over Wall Street.
Ambitious NY Prosecutors = Trouble
Beware the ambitions of high-profile NYC area prosecutors for they tend to have feet of clay.
At least that's been my sad experience.
A few years back, I was singing the praises of an ambitious NYC prosecutor (former NY Governor, former NY Attorney General, and former NY prosecutor in the Manhattan DA's office, Eliot Spitzer) to anyone who'd listen.
When Spitzer became Governor, no one was happier than I.
In an evangelical mood, I started telling people Spitzer would make a fine President.
And then one day, the hyper-ambitious putzhead Spitzer was caught dipping his beak into the crevice of many a pricey hooker.
Eliot's bad behavior made me cringe in shame for singing his paeans and I did not show my face to the outside world for three weeks.
Spitzer is not the only reason I'm wary of hyper-ambitious, self-promoting NYC area prosecutors.
Just across the Hudson, New Jersey Governor Chris Christie is another former prosecutor who turned out to be a disgrace. Christie was previously U.S. Attorney for the District of New Jersey. Recently, Christie's close aides were caught playing dirty politics in the matter of closing highway lanes in Fort Lee (NJ) to punish a Democratic politician who was not supportive of their boss.
So with good reason I'm extremely wary of hyper-ambitious, self-promoting New York area prosecutors.