The last 18 months have been the most challenging of my life….I regret terribly the impact on my family, friends, and institutions that are dear to me.

– Indian-American Crook Rajat Gupta at his sentencing hearing in a NYC Court, October 24, 2012
Millionaire crook and IIT Delhi alumnus Rajat Gupta will spend two years as a guest of the U.S. penal system.
U.S. judge Jed S. Rakoff of the Federal District Court in Manhattan also today ordered Gupta to pay a $5 million fine.
After completing his prison term, Gupta faces one year of supervised release, which we take to mean that he should be on his best behavior and not engage in any bad conduct.
Rajat Gupta's lawyers are considering an appeal of the prison term.
Gupta must report to prison by January 8, 2013.
Leaking Information
Gupta leaked confidential board-level information pertaining to Goldman Sachs to former hedge fund manager Raj Rajaratnam (who is now in jail).
Gupta's hot tips to Rajaratnam helped the hedge fund manager make millions in illegal profits.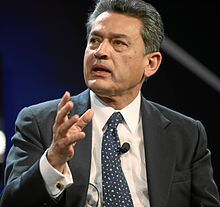 In June 2012, a federal jury found Gupta guilty of insider trading. The jury convicted him on three counts of securities fraud and one count of conspiracy.
Grave Consequences
A former chief of consulting giant McKinsey, Gupta is the highest ranking Indian American to be sentenced to prison in the U.S.
Prosecutors had asked the judge to sentence Gupta for 8-10 years but the sentencing judge has discretion over the length of the term.
U.S. Attorney Preet Bharara for the Southern District of New York said today:
With today's sentence, Rajat Gupta now must face the grave consequences of his crime – a term of imprisonment. His conduct has forever tarnished a once-sterling reputation that took years to cultivate. We hope that others who might consider breaking the securities laws will take heed from this sad occasion and choose not to follow in Mr. Gupta's footsteps.
Rajat Gupta's two-year prison term has brightened a cheerless day although we're saddened over the short length of the term. The crook should have got the full 10-years prison term that the prosecutors were asking for.
Related Stories and Court Documents:
Indian Crook Rajat Gupta Begging the Court Not to Send Him to Prison
Federal Prosecutor Preet Bharara Wants Rajat Gupta to go to Prison for 10-Years
Guilty! Greedy Desi Millionaire Crook Rajat Gupta with $130m & 3 Homes Going to Jail
Rajat Gupta Indictment
SEC Complaint Against Rajat Gupta