Greedy Indian chutiya Rajat Gupta is preparing himself for prison with the Federal Appeals Court for the Second Circuit in New York today rejecting his appeal against his conviction for insider trading and securities fraud by the U.S. District Court in 2012.
The 65-year-old multimillionaire with multiple homes in the U.S. will likely be lodged in a low-security prison for white collar criminals.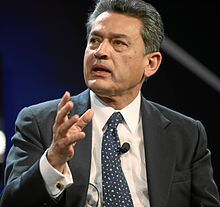 Indian Crook Rajat Gupta
When Rajat Gupta goes behind bars, he will be the most high-profile Indian ever to enter an American prison.
Despite his 2012 conviction by the U.S. District Court, Gupta was permitted to remain free pending the outcome of his petition before the Appeals Court.
Now that Gupta has lost his appeal, he has almost zero options to avoid prison time.
Even if Gupta were to appeal to the U.S. Supreme Court the odds of his success are low because of the 9,000 odd petitions the highest court receives every year it accepts only about 80.
No date has been set for Gupta to be taken into custody to begin serving his prison term. One can only hope it'll be sooner rather than later.
A perusal of the court documents reveal that Rajat Gupta acted illegally by passing on confidential corporate information about Goldman Sachs to his hedge fund buddy Raj Rajaratnam (who's now serving a 11-year jail term). Gupta was a member of Goldman Sachs' board in 2008 when the crimes were committed.
Rajat Gupta – Guilty
On June 15, 2012, a NYC jury found former McKinsey chief Rajat Gupta, 65, guilty of insider trading and convicted him on three counts of securities fraud and one count of conspiracy.
Gupta was a business partner of the jailed hedge fund billionaire Raj Rajaratnam and passed along confidential and market-moving inside information to Rajaratnam who then made huge amounts of money by illegally trading on those tips. Gupta was also an investor in Rajaratnam's Galleon fund.
Following his conviction, U.S. District Judge Jed S. Rakoff sentenced Gupta to two years in prison and ordered him to pay a $5 million fine.
Gupta had challenged his conviction and filed a petition in the Appeals Court seeking a new trial.
Gupta argued that the trial court (District Court) erred (1) by admitting 19 statements of a co-conspirator (Raj Rajarathnam), recorded in wiretapped telephone conversations to which Gupta was not a party, and (2) by excluding relevant evidence offered by Gupta.
But the Federal Appeals Court did not buy into any of Gupta's arguments in its 48-page ruling.