A federal jury in New York City today found former McKinsey chief Rajat Gupta guilty of insider trading.
The jury convicted Gupta on three counts of securities fraud and one count of conspiracy.
A close business associate of the jailed hedge fund billionaire Raj Rajaratnam, Gupta passed along confidential corporate information to Rajaratnam who then made huge amounts of money by illegally trading on those tips.
Gupta was an investor in Rajaratnam's Galleon fund.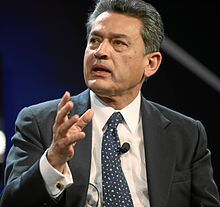 Rajat Gupta – Guilty
(Image: Wiki)
Although Gupta faces up to 20 years in prison on each of the fraud charges and up to five years for the conspiracy charge, I expect he'll get off with a lighter sentence of no more than 5-10 years because of his 'distinguished' career and extensive business and social network.
That's the way the legal system works in the U.S. or anywhere else if you're a multimillionaire.
By now, Gupta's lawyers and family members must be frantically calling the crook's vast network of friends and cronies pleading for character references, notes of high praise for his various charitable deeds and warm comments highlighting his selfless actions, endless sacrifice and constant dedication toward the betterment of his fellow humans.
These notes will be handed over to the judge before sentencing. Such notes are considered to be helpful in getting a shorter jail time.
Gupta's lawyers today indicated that they plan to appeal today's verdict.
But whether they will go through with the appeal process will be known only after a few weeks. After all, they do have to sit with their client and weigh the various pros and cons. Plus, given that the current social mood is against wealthy finance professionals it's doubtful whether another jury will reach a different verdict.
Gupta also obviously suffers from his skin color being brown.
One of the highest profile convictions in the business world in recent years, Rajat Gupta, 63, is a former board member of Goldman Sachs, Procter & Gamble and American Airlines. He was also also the former chief of global consulting firm McKinsey.
Following Gupta's conviction today, the U.S. attorney in Manhattan Preet Bharara said:
Having fallen from respected insider to convicted inside trader, Mr. Gupta has now exchanged the lofty board room for the prospect of a lowly jail cell. Violating clear and sacrosanct duties of confidentiality, Mr. Gupta illegally provided a virtual open line into the board room for his benefactor and business partner, Raj Rajaratnam.
Gupta, who will be sentenced on October 18, 2012, is currently free on bail.
Rajat Gupta – Immensely Wealthy
Media reports portray Rajat Gupta as a fabulously wealthy man.
The New York Times reported Gupta's family wealth at $130 million.
Besides a home in the wealthy enclave of Westport (Connecticut), Gupta has vacation homes in Florida and Colorado.
Gupta is an alumnus of two prestigious institutions – IIT Delhi and Harvard Business School.
Gupta co-founded the Indian School of Business and was its first chairman.
Indian Inmates
Man, at the rate desis are going to jail they have to start building special prisons for Indian-Americans.
Every other day, a high-profile wealthy Indian is getting into big trouble, a court case follows and then the scumbag is sentenced to jail.
In April, IIT alumnus and former AMD executive Biswamohan Pani plead guilty to five counts of wire fraud in the Intel trademark theft case.
In May, Dharun Ravi, the Tamil dude who hates poor people,  was sentenced to jail in the tragic Tyler Clementi webcam spying case.
In June, it's the turn of IIT alumnus and former McKinsey chief Rajat Gupta.
I can't wait for July. 😉
Related Documents:
Rajat Gupta Indictment
SEC Complaint Against Rajat Gupta