June 17, 2014 will count as the worst day in 65-year-old Indian crook Rajat Gupta's life.
Why?
Read on, sweetie!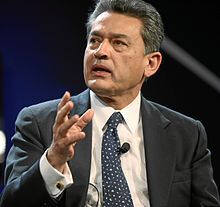 Crook – Off to Prison
Rajat Gupta – Stripped
As part of his entry into a federal prison today following his conviction on insider trading charges, Rajat Gupta was most likely asked to strip while prison officers did a thorough search of all body orifices for illegal substances (like what happened to former NYC Indian diplomat Devyani Khobragade).
Prisoners do crazy things and you can never be too careful, more so when they come in from the outside.
People do wild shit like shoving a cell phone up their ass when they enter prison or bring in drugs and blades etc. Hence the thorough search of all prisoners at U.S. prisons.
Although it's standard procedure, I can't imagine the millionaire Rajat Gupta would have felt thrilled when ordered to remove all his clothes and stand for inspection before a prison official.
After a medical and psychological test, Rajat Gupta will most likely be asked to wear orange clothes, mandatory for prisoners. Kinda like an Indian Swamiji!
Gupta will be allowed to keep his eyeglasses.
The owner of multiple homes in the U.S. (a waterfront property in Connecticut, a villa in Florida and a home in Colorado), Rajat Gupta will now be confined to a dormitory-style cell.
No Tandoori Chicken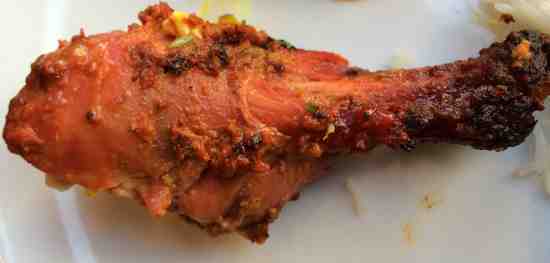 Rajat Gupta Loves Tandoori Chicken but Can't get any at his New Home
Like any desi, Rajat Gupta is said to be fond of Tandoori Chicken.
No, I'm not making up Gupta's fondness for Tandoori Chicken. (Hey, the New York Times says he loved feasting on Tandoori Chicken at his villa in Southwestern Florida).
But the odds of Gupta getting Tandoori Chicken in a U.S. Federal Prison in Massachusetts are low to zero unless the authorities let his family members bring in the treat on a special occasion like Diwali or his birthday (December 2).
Gupta will spend the next two years at a low security satellite camp of the Devens Federal Medical Center in Ayer, Massachusetts, close to where his former buddy Raj Rajaratnam is housed.
Just in case you're curious, Rajat Gupta's prisoner Registration Number is 65892-054. The total of the numbers in Gupta's prisoner Registration comes to 39. I'm not sure if 39 has a numerological or astrological significance with Indians. 😉
Rajat Gupta has spent nearly $40 million on his legal bills, according to the New York Times. Well, $40 million could have bought Gupta a lot of Tandoori Chicken! 😉
Rajat Gupta is lucky in being sent to Devens Federal Prison because his family lives close by in the Connecticut/New York City area.
Mighty Fall
An IIT Delhi and Harvard Business School alumnus, Rajat Gupta was head of consulting giant McKinsey, a board member of Goldman Sachs and a confidant of top CEOs worldwide.
On June 15, 2012, a NYC jury found former McKinsey chief Rajat Gupta, 65, guilty of insider trading and convicted him on three counts of securities fraud and one count of conspiracy.
Gupta was a business associate of jailed hedge fund billionaire Raj Rajaratnam and passed along confidential and market-moving inside information to Rajaratnam who then made huge amounts of money by illegally trading on those tips. Gupta was also an investor in Rajaratnam's Galleon fund.
Rajat Gupta reported for prison on the same day that he lost his appeals case against a $13.9 million fine and permanent ban on serving as an officer or director of a public company.
By the way, Rajat Gupta is the highest profile Indian to enter prison in the U.S.