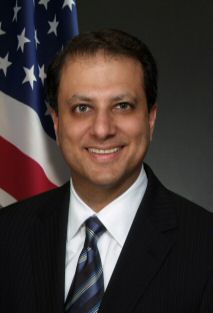 Ha Ha Ha – Uncle Tom Loses
Uncle Tom was piling on trophies, both Indian and Western, like there was no tomorrow.
The publicity-crazy fella wouldn't stop preening and his non-stop press releases were driving me up the wall.
Would there be no end to Uncle Tom's victories against desis, I wondered while quietly dispatching prayers to Ram, Jesus, Allah and the Sikh Gurus to teach this publicity-mad prosecutor a lesson.
Finally, it was left to Rengan Rajaratnam, a Tamil of Sri Lankan origin, to end the winning streak of Uncle Tom.
After 85 victories against Wall Street traders, consultants and analysts including the likes of Rajat Gupta, Raj Rajaratnam et al, Uncle Tom today got his comeuppance! 😉
A New York jury today cleared Rengan Rajaratnam of insider trading charges handing Uncle Tom a huge defeat and considerable egg Chicken Tikka Masala on his face.
Rengan is the younger brother of Raj Rajaratnam, who's now a guest of the U.S. prison system following his 2011 prosecution on insider trading charges by Uncle Tom.
Uncle Tom's Hunt
Are Indians low-hanging fruit for Uncle Tom, I've asked myself a million times.
Are desis a cheap, easy way to further Uncle Tom's career?
Folks, the two dozen desis below are the tip of Uncle Tom's Indian ice berg (majority over the last 12 months):
* Devyani Khobragade
* Mathew Martoma
* Rajat Gupta
* Avinash Malhotra
* Suresh Hiranandaney
* Lalit Chabria
* Anita Chabria
* Seema Shah
* Samir Hiranandaney
* Dinesh D'Souza
* Purna Chandra Aramalla
* Sandeep Aggarwal
* Sarvesh Dharayan
* Sanjay Gupta
* Venkata Atluri
* Rangarajan Kumar
* Vadan Kumar Kopalle
* Anil Singh
* Dharayan Gupta
* Raj Rajaratnam (Our Tamil brother from Sri Lanka)
* Rengan Rajaratnam (Not Guilty – Our Tamil brother from Sri Lanka)
* Anil Kumar
* Shashi Malhotra
* Roomy Khan
Some of the above persons have pleaded GUILTY while others have pleaded NOT GUILTY.
As always, all defendants are presumed innocent unless and until proven guilty.