"Jefferson raises a lot of difficulties for the historian. He is fascinating because of the range of his activities, the breadth of his imaginative insights, and the fertility of his inventions. But his inconsistencies are insurmountable and the deeper they are probed the more his fundamental weaknesses appear….From claret to concubinage, there was no delight he did not sample or rather indulge in habitually."
– Paul Johnson in A History of the American People[1]
Dear Kim Moon-shine,
I am delighted your sister Kim Toon-shine has been named a secretary of the Workers Party of Livia's Central Committee.[2]
Although young in years, your sister is a capable woman and will be of much help to you in developing the Democratic People's Republic of Livia and thwarting the American imperialists who daily threaten your nation.
Kim, last month you asked me about America's founding fathers and how they match up to your father and grandfather, the founding fathers of the Democratic People's Republic of Livia.
Now I will tell you a truth that will be music to your ears but elicit Satanic shrieks from my countrymen.
America's Fondling Fathers
Several of America's founding fathers were actually fondling fathers, delighting in fondling, bedding and breeding young girls and older women.[3]
Nobody has more claim to be a fondling father of our 'exceptional' American republic than Thomas Jefferson.
Author of the Declaration of Independence, Thomas Jefferson had the 14-year-old Black slave Sally Hemings massage his cojones and part her legs at his command.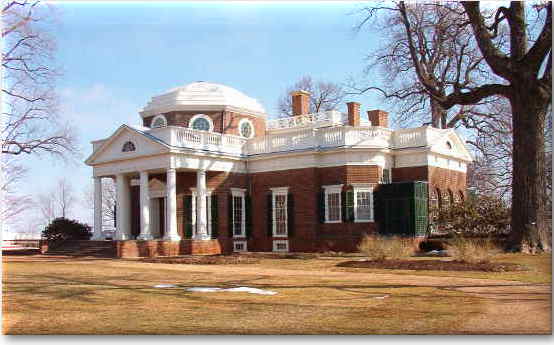 Home of Fondling Father Thomas Jefferson
Thomas Jefferson delighted in breeding his young slave Sally and had six children with her.
Jefferson, the master of Monticello, proclaimed:
"All Men are Created Equal."
That is enough for the American Sonderkommandos to sing his praises, put his face on currency notes and erect several monuments to him.
They care not if Jefferson owned several slaves, had child slaves whipped for coming to work late in winter, or raped and bred his 14-year-old teen slave Sally Hemings (she had her first child by Jefferson when she was just 16).
It was the ceaseless sweat of his slaves' toil that allowed Thomas Jefferson to live a life of great sybarite luxury.
American Sonderkommandos delight immensely in their White fondling father's flowery expressions but callously ignore his pedophilia and repeated sexual assaults on a 14-year-old girl.
Given his fondness for nubile slaves, Jefferson should rightly be hailed as America's Founding Pedophile.
Or better still a Founding Rapist since all master-slave sexual relationships have a strong inherent element of coercion.
Jefferson was not an exception among America's White fondling fathers.
Regrettably, a few other American 'founding fathers' too turned out to have an uncontrollable passion for fondling.
Benjamin Franklin had several affairs, many mistresses and is said to have sired several bastards.
Franklin, who was also a slaveowner at one time, famously said, "After three days, men grow weary of a wench, a guest and weather rainy."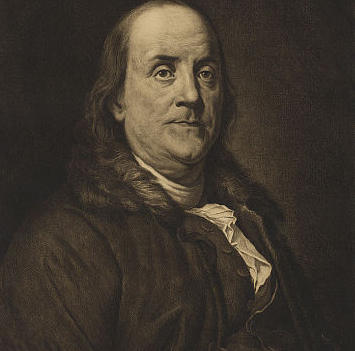 Benjamin Franklin
In his autobiography, Franklin acknowledged that the "hard-to-be-governed passion of my youth had hurried me frequently into intrigues with low women that came my way."[4]
To Franklin's many achievements, we must add that his son William Franklin, grandson William Temple Franklin and his two sons were all bastards.
George Washington is rumored to have had an affair with a 15-year-old Black slave Venus and sired an illegitimate son named Wes Ford with her.
Today, Wes Ford's descendants are fighting to have Washington acknowledged as their ancestor.
The peerless journalist H.L. Mencken wrote that George Washington, even in his later years, "had a quick eye for a pretty ankle."[5]
Rumor has it that Washington's promiscuity earned him the nickname of "stallion of the Potomac."
Fondling father Alexander Hamilton, the first U.S. Treasury Secretary, was AC/DC (i.e., bisexual) and found joy in the embrace of both men and women.[6]
When his wife Eliza Schuyler was pregnant, Hamilton fell for the wiles of a beautiful married woman (Maria Reynolds) and before long was being blackmailed by Maria's husband James Reynolds.[7]
Hamilton's feminine fondness for a certain John Laurens in his younger days and his affair with the beautiful Maria Reynolds in his later days have made their way into every biography of the nation's first Treasury Secretary.
Gouverneur Morris, who played a key role in writing the American constitution, is considered a libertine given his many affairs with the fair sex.
Modern Fondlers
Jefferson was not the only American leader to get his release from fondling and mounting tender children.
Also, it is not just 14-year-old girls who capture the fancy of America's leaders.
In the twentieth century, former House Speaker Dennis Hastert's sexual predilections ran towards fondling 14-year-old boys when he was a wrestling coach at an Illinois school.[8]
Of course, 'serial molester' Hastert was not the only American Sonderführer to be turned on by young boys.
Former FBI director and America's top law-enforcement officer J. Edgar Hoover earned notoriety for his fondness for cross-dressing and enjoyed sex with young boys.[9]
Former Idaho Senator Larry Craig, given to anti-gay positions in Congress, was so desperate for 'manly congress' that in 2007 he unwittingly tried his 'fondling tricks' with an undercover cop inside a Minneapolis-St.Paul airport toilet.[10]
True to American love for trash, the 'Larry Craig toilet stall' is now a tourist attraction at the airport.
Of course, hypocritical Larry Craig voted 'YES' to a constitutional ban on same sex marriage in June 2006 and voted 'No' to prohibiting job discrimination by sexual orientation in September 1996.[11]
We should not be surprised by former Senator Larry Craig's private 'fondling' actions and his public moral positions. After all, hypocrisy is a high virtue among American leaders, right from the eighteenth century through the twenty-first.
America's leaders, the 'exceptional' nation's Presidents, Senators and Congressmen, have always been obsessed with sex with young girls, boys, interns, hookers and mistresses.
James Garfield (Lucia Calhoun), Grover Cleveland (Maria Halpin), Warren G. Harding, Dwight Eisenhower (Kay Summersby), John F. Kennedy (too many affairs to mention), Robert Kennedy, Martin Luther King, Bill Clinton (Monica Lewinsky among others), Newt Gingrich, John Edwards (Rielle Hunter), Strom Thurmond, Elliot Spitzer (degenerate obsession with young hookers), Al Franken and Arnold Schwarzenegger constitute a tiny sample of America's leaders who fondled young women not their wives.[12]
John F. Kennedy set the intern-fondling-ball rolling in the White House.
Some 35 years later, JFK fan Bill Clinton picked up the intern ball and had Monica Lewinsky blow his dong right inside the White House.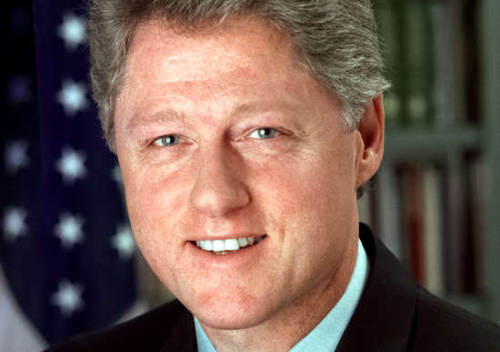 Bill Clinton – Fondling Democrat
According to the 42nd President's bizarre interpretation, when Monica Lewinsky was vigorously exercising her jaw muscles and bravely vanquishing her gag reflex she was having sex with him but he was not having sex with "that woman" even though he ejaculated in her mouth on at least two occasions in 1997 (ejaculation happened during their last two sexual encounters, per the infamous Starr Report).[13]
Former Alabama Chief Justice Roy Moore allegedly delighted in putting his hands on the breasts of a 14-year-old, underage girl when he was already in his 30s.[14]
Noted comedy host and Democratic Senator Al Franken had no compunctions in sexually harassing a young woman who accompanied him on a trip to the Middle East in December 2006 to entertain U.S. troops in a war zone.[15]
In his apology following the woman's article on the 790 KABC radio station web site, the fondling comic wrote: "I respect women. I don't respect men who don't."[16]
Such is the level of sexual harassment by our leaders that in November 2017 House Speaker Paul Ryan was compelled to call for mandatory sexual harassment training of lawmakers as well as their staff.
Pussy Grabber
Our 45th President, the thrice-married Donald Trump, has boasted of grabbing beautiful women by their pussies.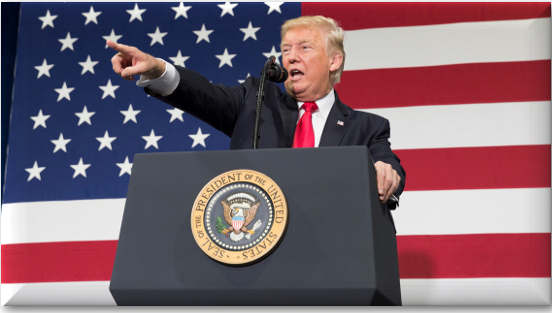 Pussy-Grabber President
"I better use some Tic Tacs just in case I start kissing her [Arianne Zucker]. You know, I'm automatically attracted to beautiful – I just start kissing them. It's like a magnet. Just kiss. I don't even wait. And when you're a star, they let you do it. You can do anything …. Grab 'em by the pussy. You can do anything," Trump told Bill Bush, then with Access Hollywood, in 2005.[17]
Ecstatic over the revelations of such fondling trash-talk from the Republican Party nominee, White American Sonderkommandos rewarded Trump with the presidency on November 8, 2016.[18]
Trump has also been accused of having an affair with porn star Stephanie Gregory Clifford aka Stormy Daniels and later paying the woman hush money of $130,000 through his surrogates to ensure her silence during the 2016 presidential campaign.[19]
Kim, I have mentioned only a few of the notorious American fondlers among our "leaders."
God knows how many other American leaders, besides Thomas Jefferson, Dennis Hastert and Roy Moore, sexually nourished themselves on the innocence of young children in quiet, dark rooms.
After all, former House Speaker Dennis Hastert's trysts with young boys remained a secret for over three decades until his hush money payments to a victim led to a federal investigation.
In their insane addiction to nymphets, child porn and sexual harassment, American Sonderkommandos are the dirty spawn of the nation's fondling Sonderführers.[20]
---
For more interesting posts like the above one, Read
Karma Gospel: Soul of America
Fondling Fathers of America Notes:
[1] A History of the American People (1998) by Paul Johnson, p.241-242
[2] Kim Toon-shine, 28, is the younger sister of Kim Moon-shine
[3] The Secret Sex Lives of the Founding Fathers, by Tracy Clark-Flory, Salon, April 26, 2011
[4] Cited in The Grouchy Historian (2017), by Ed Asner and Ed. Weinberger, p.15
[5] Prejudices: First, Second, and Third Series (Library of America edition, 2010), by H. L. Mencken, p.399
[6] What the Sex Lives of the Founding Fathers Reveal About Us, by Eric Herschthal, Daily Beast, February 21, 2014; see also 10 Fascinating Stories About The Founding Fathers, ODDEE, July 4, 2014
[7] Hamilton-Reynolds Sex Scandal, Wikipedia
[8] Judge Sentences 'Serial Child Molester' Hastert to 15 Months, USA Today, April 27, 2016
[9] Official and Confidential: The Secret Life of J. Edgar Hoover (1993), by Anthony Summers, p.254-255, p.377-378
[10] Larry Craig Scandal, Wikipedia; also see, Larry Craig On the Issues, OntheIssues.org; Same Sex: Larry Craig's Anti-Gay Hypocrisy, Slate, August 30, 2007
[11] Larry Craig on Civil Rights, OntheIssues.org
[12] Our Founding Fathers, Huffington Post, March 31, 2010, Updated May 25, 2011; Sex Tapes, FBI Smears and the Double Life of an All Too Human Saint: The Other Side to the Martin Luther King Story, Mail Online, August 30, 2013
[13] Full Text of Starr Report, Washington Post; also see Starr Report, Wikipedia
[14] Woman Says Roy Moore Initiated Sexual Encounter When She was 14, He was 32, by Stephanie McCrummen, Beth Reinhard and Alice Crites, Washington Post, November 9, 2017; also read, Roy Moore is Mired in a Sexual Misconduct Scandal. Here's How It Happened, by Richard Pérez-Peña, New York Times, November 16, 2017
[15] Senator Al Franken Kissed and Groped Me Without My Consent, And There's Nothing Funny About It, by Leeann Tweeden, 790 KABC, November 16, 2017
[16] Al Franken Issues Apology After Accusation of Forcible Kissing and Groping, by Nicholas Fandos, New York Times, November 16, 2017
[17] Transcript: Donald Trump's Taped Comments About Women, New York Times, October 8, 2016
[18] White People Elected Donald Trump, by Emma Fidel, Vice, November 9, 2016
[19] Stormy Daniels, Wikipedia
[20] Every day, American newspapers feature reports of school teachers, firefighters, retirees and other adults arrested in child porn stings conducted by ICE and various state police organizations. See press release section of ice.gov