The Bollywood mongrels have done it again.
They have stolen a successful Hollywood plot (Three Men and a Baby), made some changes and brought us an unwatchable horror show called Heyy Babyy.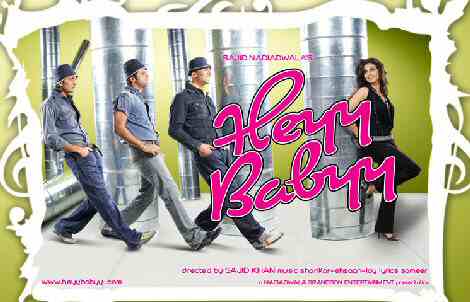 Starring Tom Selleck, Steve Guttenberg and Ted Danson and directed by Leonard Nimoy of Star Trek fame, Three Men and a Baby was a delightful comedy that deservedly went on to become one of the biggest hits of 1987.
There are so many unforgettable scenes in Three Men and a Baby.
For instance, Tom Selleck, Steve Guttenberg and Ted Danson singing Well, it's time to go. Goodnight, sweetheart to the baby, Tom Selleck buying baby food, Tom Selleck and Steve Guttenberg rushing back home halfway through a play to check on the baby because Ted Danson doesn't answer the phone, oh, we could go on and on.
Sadly, there's not a single decent, noteworthy scene in Heyy Babyy.
Watching Heyy Babyy is sheer torture from beginning to the end. This is an ugly movie that should never have seen the light of day.
Like Three Men and a Baby, Heyy Babyy is mostly the story of what happens to three bachelor friends when a baby girl is deposited on their doorstep one morning.
Although initially upset over the new arrival, the three womanizer friends Arush (Akshay Kumar), Tanmay (Riteish Deshmukh) and Al (Fardeen Khan) gradually warm up to the baby.
So, what's wrong with Heyy Babyy? The short answer – plenty.
Mediocre performance by the lead stars, poor story development and horrible music are some of the key elements that make Heyy Babyy an ugly disaster.
Of the three shortcomings listed above, poor story development inflicts the maximum damage on the movie.
Before you can say Heyy Babyy, the baby is deposited on the bachelors' doorsteps without anything leading up to it. Then, there's Boman Irani's poorly fleshed out role.
While much of Three Men and a Baby was filmed on the studio, our Bollywood bozos flew off to Australia to make this horrid nightmare hoping to bamboozle us with pictures of Sydney and skimpily-clad white girls.
Heyy Babyy is one of the crudest Bollywood movies we've seen with shit flying into the faces of the lead stars (literally).
None of the key actors in Heyy Babyy distinguish themselves. The hospital scene was one of the most contrived scenes we've seen in a Bollywood movie lately. It was shallowly amateurish.
Even a fine actress like Vidya Balan fails to impress in Heyy Babyy. And by the way, who were the clowns responsible for her makeup, hairstyle and costumes in Heyy Babyy?
Whoever it was, they managed the difficult feat of making Vidya Balan look unattractive most of the time.
Akshay Kumar is no patch on Tom Selleck.
Akshay is just unable to summon the range of expressions that Tom Selleck displays time and again in Three Men and a Baby to our great delight.
With most of Akshay Kumar's movies in the last two years – Deewane Huye Pagal,  Hum Ko Deewana Kar Gaye, Jaan-E-Mann, Bhagam Bhag, Namastey London – turning out to be duds, one wonders whether this dude's career is on the wane.
Among the scores of bad Bollywood actors, Riteish Deshmukh and Fardeen Khan stand out for their egregious performances in movie after movie. How these two lousy actors manage to land roles in movies is an unfathomable mystery to us on par with the enigma of the Bermuda Triangle.
Fans of Bollywood superstar Shah Rukh Khan will be pleased to see their hero make a brief appearance towards the end of Heyy Babyy.
Heyy Babyy's music is hopeless and completely without merit. We would charitably describe it as cacophony.
Ultimately, Heyy Babyy is nothing but a bastardized and tawdry version of Three Men and a Baby.
Watch this insufferable Bollywood trash only if you have time and money to waste.