Although Saawariya never rises to the great heights of Luchino Visconti's black and white film Le Notti Bianche, it's still one of the finest love stories to emerge out of the augean pits of Bollywood in recent years.
Like the Italian film Le Notti Bianche (1957), Saawariya is also an adaptation of Russian author Fyodor Dostoevsky's 1848 novella White Nights.
It's the tender love story of a beautiful young girl waiting on a bridge for the return of her loved one and a separate young man who falls hopelessly in love with this angel after spotting her one night crying on the bridge.
Compared to the unwatchable horror shows that his peers like Farah Khan, Farhan Akhtar and Pradeep Sarkar unleash on unsuspecting Bollywood fans, director Sanjay Leela Bhansali of Black fame has turned in a minor classic in Saawariya.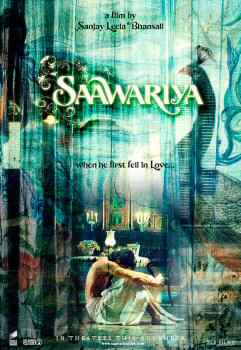 While Le Notti Bianche's director Luchino Visconti had the advantage of working with established actors like Marcello Mastroianni and Maria Schell, Sanjay Leela Bhansali had to make do with fresh clay in Ranbhir Kapoor and Sonam Kapoor.
Both Marcello Mastroianni and his co-star Maria Schell had over 15 years of experience behind them when they took up Le Notti Bianche. In the final scene of Le Notti Bianche, when Maria spots her lover on the bridge, she walks slowly at first, then hesitantly and finally with a scream she shrugs off her coat in the snow and runs to her lover even as Marcello Mastroianni is in anguish. That is a scene for the ages.
But given the disadvantage of having to work with two neophytes, perhaps Sanjay Leela Bhansali's achievement is greater. Long after the Om Shanti Oms, Laaga Chunari Mein Daags and Chak de Indias are relegated to forgotten footnotes and dusty archives, Saawariya will evoke respectful references in hushed tones.
Visually stunning, Saawariya has been filmed almost entirely on sets unlike most Hindi films that are routinely shot on outdoor locations ranging from Brazil to Switzerland and Australia and all the places in between.
A fine adaptation for Bollywood movie lovers, Saawariya is a delightful movie in many ways.
Besides the fine story, there is great music and more than decent performances by lead actors Ranbhir Kapoor and Sonam Kapoor.
It's no exaggeration to say that Ranbhir Kapoor is a better actor and far superior dancer than that overrated narcissist Shahrukh Khan.
Sonam Kapoor (Anil Kapoor's daughter) does an OK job in Saawariya but is overshadowed by Ranbhir Kapoor. Did we mention that we saw shades of Tabu in Sonam?
To our immense delight, director Sanjay Leela Bhansali has cast the 92-year-old gem of an actress Zohra Sehgal (we saw her last in Cheeni Kum) as the owner of a small guest house in Saawariya.
As in with her last movie Laaga Chunari Mein Daag, Rani Mukerji is a prostitute in Saawariya too. But this time, she turns in a memorable performance.
The less said about Salman Khan's forgettable performance in Saawariya the better.
Music is one of Saawariya's key appeals. Frankly, we liked all the songs in Saawariya. If pressed, we'd confess to liking Chhabeela and Saawariya (bar song) a wee bit more than the other songs.
Saawariya is the clear winner in this Diwali's clash of Bollywood titans.
In his review of Saawariya, New York Times' film critic A.O.Scott wrote:
The experience is visually enchanting, cloyingly sweet, at once utterly chaste and insanely erotic, and finally exhausting. Aficionados will not settle for less.