What a shame.
Desi butcher and Citigroup CEO Vikram Pandit, who's been butchering Citi jobs even while feeding like a greedy pig at the trough, has to suffer the ignominy of seeing his hedge fund Old Lane shut down following a mediocre performance.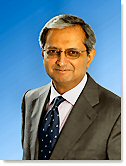 Vikram Pandit
Here's what the Wall Street Journal (subscription required) reports on the front page today:
Citigroup Inc. is closing a hedge fund co-founded by Chief Executive Vikram Pandit, 11 months after Citigroup bought the fund's management company for more than $800 million.

Old Lane Partners has been dogged by mediocre returns and the loss of top managers. Citigroup plans to shut it and buy what is left of its assets, according to people familiar with the matter.

Mr. Pandit personally reaped at least $165 million when Citigroup bought Old Lane in July 2007, following its founding the previous year. At the time, many large banks and brokerages saw hedge funds as a lucrative new business. Citigroup was also willing to pay a premium to land Mr. Pandit, who quickly moved up the ladder and became chief executive in December.
From what we can gather, Old Lane has not been a complete disaster for Citigroup.
Old Lane has essentially broken even since its inception. That isn't terrible, considering the perilous financial markets of the past year. But it fell far short of the highflying performance craved by hedge-fund investors. Citigroup never marketed Old Lane to new investors, even after the fund was designated by Citigroup as its primary hedge-fund vehicle last summer, replacing the struggling Tribeca Global hedge fund.
The WSJ reports that Citigroup will likely take a second-quarter charge for Old Lane's shutdown.