Not since Emperor Ashoka invaded Kalinga in 261 BC and left a battlefield overflowing with blood has any other desi inflicted so much destruction and misery as the desi butcher a.k.a Citigroup CEO Vikram Pandit.
Call it the Monday morning bloody massacre.
Citigroup CEO Vikram Pandit, who's in over his head at the financial supermarket, will fire 50,000 employees in the latest round of bloodletting at the troubled firm.
The job cuts will happen in the near term and bring Citigroup's global headcount to 300,000, Pandit told a townhall meeting of Citigroup employees this morning in New York City.
Citigroup has already cut about 23,000 jobs in 2008.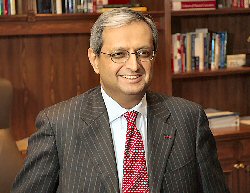 Clueless Desi Butcher
Citigroup said its goal is to reduce expenses by 20% from peak levels. Unlike Goldman Sachs, Citigroup did not say if its top management would eschew their fat bonuses this year.
Pandit claimed Citigroup's underlying business remains strong and that the company was in a very strong capital position. Recently, the bank went with begging bowl in hand to the U.S. Treasury Department and received$25 billion in assistance under the U.S. government's ill conceived TARP (Troubled Asset Relief Program) initiative to save Wall Street.
Since he took over as CEO of Citigroup 11 months back, Vikram Pandit has little to be proud of: the hedge fund that landed him the top slot at Citi turned out to be a disaster, top executives are leaving and the stock is in the gutter (in the single digits now).
All that the desi butcher Pandit has done so far is fire, fire and fire more employees and grab millions in stocks and pay.
Citigroup shares have fallen about 70% since Vikram Pandit took over as CEO on December 11 last year.
Citigroup is a financial giant with total asset of $2,050 billion and deposits of $780 billion.
Besides Vikram Pandit, other desis in top positions at Citigroup include Ajay Banga (CEO of Asia Pacific), Shirish Apte (CEO of Central & Eastern Europe) and Sanjiv Das (North American Mortgage).