Folks, we have never shied away from highlighting the ugly face of one of the worst corporate animals in America – the Yama (Hindu God of Death) who has butchered over 70,000 jobs, the Greedy Suvar (pig) who hogs at the trough, the Shani (source of trouble) who has brought misery to countless Americans by his actions.
Yes, we're speaking of our Desi Butcher Vikram Pandit, CEO of Shitty Group oops Citigroup. the crappy financial institution bailed out by U.S. tax-payers.
The Greedy Suvar dubbed 'quarter billion man' by the New York Times never misses an opportunity to inflict misery on less privileged Americans through all kinds of dirty tactics at his financial conglomerate.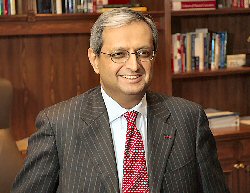 Blood Sucking Vampire
Every day brings further evidence of how the bailed out shitty corporation Citigroup under Vikram Pandit's stewardship devises new ways to make life as difficult as possible for average Americans struggling to survive in these hard economic times.
* Yesterday, there were reports of how Citi was abruptly closing credit card accounts linked to its gas station partners like Shell, Citgo, ExxonMobil and Phillips 66-Conoco.
* Today comes the sad news that Citi is jacking up credit card interest rates for many unsuspecting customers to 29.99%.
* What misery will the Desi Butcher Vikram Pandit inflict on hapless Americans tomorrow and the day after tomorrow and the day after….
Yes, this is the same Shaitan whose payout was $216 million, according to the New York Times.