Capitalism is evil and you cannot regulate evil. You have to eliminate it and replace it with something that is good for all people and that something is democracy.
– Michael Moore in Capitalism: A Love Story.
Greedy Maderch*ds.
Yes, it's the evil maderch*ds of corporate America and their pimps in Congress (both Republicans and Democrats) that have brought America to ruin.
Make no mistake, folks.
It's the insatiable greed and unholy lust for money of scumbags like Shitty Bank CEO Vikram Pandit and his ilk that's causing untold misery in the lives of tens of millions of everyday Americans.
Millions have lost their jobs. Millions have lost their life's savings. Millions have had their lives upended.
All because the shameless greedy ch**ts like Vikram Pandit wanted more. Wanted more. Wanted more.
Touting the virtues of capitalism, corporate animals like Vikram Pandit have cut a wide swathe of destruction across the breadth of our country, laying off millions of workers (this greedy desi swine Vikram Pandit alone has butchered over 70,000) and impoverishing countless families.
Wake-up Call
Michael Moore's latest documentary Capitalism: A Love Story is a wake-up call to America.
Alas, this wake-up call comes too late.
The wound is deep and damage to the body politic far too severe for the patient (America) to recover.
We're in slow decline.
And notwithstanding what the pundits (no pun intended) may say, it's going to be very hard, if not impossible, for America to recover from our current economic morass.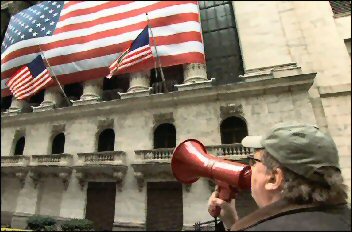 Capitalism: A Love Story is set against the backdrop of our present financial disaster, mortgage mess, daily foreclosures, $700 billion corporate bailout, massive layoffs and corporate plunder.
It's a familiar story, sure. But one that needs to be retold.
After all, there are so many idiots out there who still believe capitalism is an unalloyed virtue. Despite the fact that capitalism in America is not taking and giving but, as the film says, is mostly taking.
In a nostalgic trip down memory lane, Michael Moore takes us to his childhood years (his dad worked at a GM plant in Flint, Michigan that's now reduced to rubble) when American families could lead comfortable lives on a single salary, had a stable job, send their children to college without the current burdensome loans, go on vacations and generally lead a good life.
The film shows how the corporations have corrupted Congress and even the judiciary in pursuit of their holy grail of higher and higher profits.
Children are sent to private prisons by a corrupt judge. Large corporations like Wal-Mart, Shitty Bank, Bank of America and AT&T take out life insurance policies on their employees, who are referred to, for some unexplained reason, as 'dead peasants.'
The Reagan and Bush years worsened matters through deregulation.
The list of villains is lengthy. Here's a short list: Goldman Sachs, Citigroup, Alan Greenspan, Robert Rubin, Henry Paulson, Timothy Geithner, Countrywide, Senator Christopher Dodd (D), Bank of America, Wal-Mart et al.
As the film cites how Jesus has been hijacked by Wall Street, Moore in a clever move has members of the Christian clergy declare in no uncertain words that capitalism has wrought much agony to the people and that Jesus wouldn't condone it.
One priest is blunt:
Capitalism is contrary to all the common good…contrary to all the religions…Capitalism is wrong and has to be eliminated.
Another priest declares capitalism to be immoral, outrageous and radically evil.
Just in case we didn't tell you before Capitalism: A Love Story is written, produced and directed by Michael Moore.
Indian Angle
Shitty Bank (headed by Vikram Pandit) features often in the film and shown deservedly in an unflattering manner all the time.
Vikram Pandit is shown at least twice in the film, on both occasions in an unfavorable light.
Rightly so, because Vikram Pandit is a microcosm of the evil that's sucking the blood out of average Americans.
A disgusting, confidential and revealing plutonomy report by Shitty Group highlighted in the film has two desi authors (google "Citigroup October 2005 plutonomy" for the report).
Must Watch
Guys, we've made no secret of our support for Michael Moore's documentaries (loved Sicko and Fahrenheit 9/11).
We strongly encourage you to see Capitalism: A Love Story.
Irrespective of whether you love Moore's style of film-making or not, this corporate rape of average Americans is too big an issue to be ignored.
If you live in America,  Capitalism: A Love Story should surely be playing in a theater near you (others: don't ask us when it'll release in India because we have no clue).