Struggling financial services conglomerate Citigroup named Vikram Pandit, 50, as its new CEO and board member effective immediately.
Vikram Pandit, who hails from Nagpur in India, was most recently Chief Executive Officer of Citigroup's Institutional Clients Group, which comprises Citi Markets & Banking and Citi Alternative Investments.
For his new job as Citi CEO, Vikram Pandit should thank the sub-prime lending disaster in the U.S. After all, Vikram's predecessor Charles Prince wouldn't have lost his job in November but for the sub-prime mess at the bank.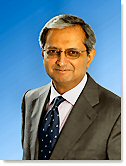 Vikram Pandit
CEO of Citigroup
As far as we can recollect, Vikram Pandit is the third Indian (after Shailesh Mehta and Ramani Ayer) to head a large U.S. financial institution.
In 1997, Shailesh Mehta, an IIT Bombay alumni, was named CEO and Chairman of Providian Financial, an issuer of credit cards to those with spotty or limited credit history a.k.a sub-prime lending.
But Providian was dogged by charges of unfair business practices and Shailesh Mehta had to step down in 2001 after Providian's performance deteriorated badly. Providian was acquired by Washington Mutual On October 1, 2005 and became the Washington Mutual Card Services division.
Isn't it ironical that sub-prime lending in the U.S. proved to be the undoing for one Indian (Shailesh Mehta) and a blessing for the career advancement of another Indian (Vikram Pandit)?
Vikram's appointment to the top post at Citigroup is no surprise as he'd been considered the frontrunner and had Citi Chairman and former Treasury Secretary Robert Rubin strongly rooting for him.
Following his appointment, Vikram said:
During this challenging time, Citi's role in the global markets is more vital than ever. We will address our issues head-on while continuing to deliver value for our clients, shareholders, employees and the communities in which we operate.
Citigroup is reeling from massive losses due to its disastrous missteps in the subprime mortgage segment and recently got a $7.5 billion cash infusion from Gulf nation Abu Dhabi through a sale of Equity Units convertible into shares.
Vikram made clear what his first priorities would be as CEO of Citigroup:
Simplifying the company's organizational structure and aligning our businesses and resources with appropriate goals and economic realities will be among our initial priorities.
While we rejoice in the rise of a desi to such great heights, we have serious doubts whether Vikram Pandit is the man of the hour.
Vikram has never run a public company before, let alone one the size of Citigroup with 300,000 employees and operations in over 100 countries. He also lacks consumer banking experience.
Vikram is also a relatively newcomer to Citigroup having joined Citi only in April 2007 when the bank acquired his multi-strategy hedge fund and private equity fund manager Old Lane for $800 million.
Before his Old Lane days, Vikram Pandit held senior positions at Morgan Stanley over more than two decades, including President and Chief Operating Officer of Morgan Stanley's Institutional Securities Group, which included Morgan Stanley's investment banking, fixed income and capital markets businesses.
Vikram Pandit has solid academic credentials – a PhD in Finance from Columbia University as well as MS degree and a BS degree in electrical engineering from the same university.
In September this year, Vikram purchased a 10-room apartment on the pricey Central Park West in Manhattan for a whopping $17.9 million.
Vikram is married to Swati and has a son Rahul (15) and daughter Maya (13). His 84-year-old father Shankar Pandit lives in Mumbai.
Vikram Pandit serves on the boards of Columbia University, Columbia Business School, Indian School of Business in Hyderabad (India) and the Trinity School in New York City.
Citigroup also named acting CEO Win Bischoff as Chairman in place of Robert Rubin, who returns to his previous duties as a member of the Citigroup Board of Directors and Chairman of the Executive Committee of the Board.