Good Riddance! Desi butcher Vikram Pandit, one of the greediest desi *%$* in the financial sector, is out of Citigroup.
Looks like it's gonna be a nice day. 😉
Yesterday, Citigroup posted a 88% drop in its profits for the third quarter yesterday.
Today, Vikram Pandit stepped down.
Sweet!
Both the New York Times and the Wall Street Journal reported that Pandit quit following tensions with the bank's board over his performance/management.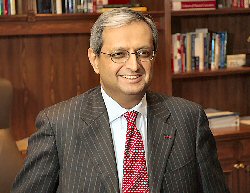 Face of the Greedy Monster
Vikram – A Shani
A disgrace to the human race, Vikram Pandit fired hundred thousand employees even as he pocketed tens of millions of dollars during his tenure as CEO of Citigroup.
Vikram Pandit's merciless actions ruined more lives than Indira Gandhi at her worst during the Indian Emergency between 1975-1977.
Vikram joined Citigroup in April 2007 when the bank acquired his multi-strategy hedge fund Old Lane for $800 million.
Old Lane imploded soon after and Citigroup took a big hit.
Vikram (55), who is married to Swati and has a son Rahul (20) and daughter Maya (18), lives in New York City.
For all the suffering and misery Vikram Pandit inflicted on countless Citigroup employees one can only hope bad Karma bites him back in equal measure.
Michael Corbat, Citigroup's CEO of Europe, Middle East and Africa, is the new CEO of Citigroup.
Related Posts:
Vikram Pandit is New CEO of Struggling Citigroup