Dasavatharam is the second dud in a row from Tamil film star Kamal Haasan.
If Vettaiyaadu Vilaiyaadu (2006) was a bitter pill to swallow for Kamal Haasan's fans, Dasavatharam is a bigger disappointment because of the heightened expectations raised by the ten roles Kamal plays in this movie.
An incomprehensibly mediocre movie, it's a shame that Dasavathaaram is the best that someone with 35+ years in the Tamil movie business can come up with.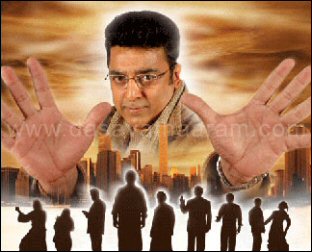 A total mess of a story is compounded by a mostly so-so performance by Kamal Haasan (except in some roles like the Indian intelligence officer Balram Naidu, Patti and Rangaraja Nambi) and below par music.
Since Kamal Haasan also takes credit for the story, screenplay and dialogs in Dasavatharam, it's only right that the major discredit for the movie should also accrue to this manga madaya (stupid fellow).
If the overall story – with the distracting side stories – is a jumbled mess, the dialogs are hopelessly banal. No life in them at all. Even a movie like Mozhi featuring a bunch of B-grade stars like Prakash Raj and Prithviraj had better dialogs.
Much of the movie centers around the efforts of a U.S.-based scientist Govind Ramasamy (Kamal Haasan's primary role in the movie) desperately trying to safeguard a deadly germ vial (containing a strain of the Ebola virus?) and prevent it from falling into the hands of a really nasty element called Christian Fletcher (Kamal Haasan again).
The fight to grab the deadly vial that starts in the U.S. ultimately ends in India after many boring detours.
Some of the roles that Kamal plays in Dasavatharam like the activist Vincent Poovaraghan, George W.Bush, the singer Avtar Singh, the 7-ft tall Kalifulla Khan and the Japanese martial arts expert Shingen Narahashi were very poorly fleshed out.
It was as if these characters were included just to hit the magic number of ten and justify the title of the movie. An example once again of the sloppy work by Kamal in the story department.
Makeup work for the many roles Kamal Haasan plays in Dasavatharam is a mixed bag.
While the makeup was decent for the Indian RAW officer Balram Naidu, Rangaraja Nambi and Patti (grandma), it was sub-mediocre for some of the others, particularly Christian Fletcher and George Bush.
Mallika Sherawat's pole dance number in Dasavatharam is one of the crudest and most disgusting dances we've had the misfortune to ever see in a long life.
Plain awful.
Even the late Silk Smita used to do a better job in these voluptuous dance scenes.
None of the songs had any magic in them.
Himesh Reshammiya's music failed to evoke much enthusiasm in the audience and several members of the audience at the Multiplex Cinemas in East Windsor (New Jersey) were walking out during the song/dance sequences.
One of the few saving graces of Dasavatharam was Asin Thottumkal's performance. In her role as Andal, a conservative Brahmin girl from the temple town of Chidambaram as well as in an earlier brief appearance as Kothai, wife of a 12th century Vaisnavite devotee Rangaraja Nambi (Kamal Haasan), Asin brings some life to this dreary movie.
The other saving grace in Dasavatharam was the special effects, usually hopelessly crude in Tamil movies. Some of the Tsunami scenes as well as some of the action scenes were nicely done.
Dasavatharaam reminds us of all the weird things crazy people do just to get noticed or make it to the Guinness Book – eating 500 burgers, standing upside down for two days, walking backwards for three weeks, dancing on a buffalo's back, fighting with a donkey or some other equally silly antic. Kamal Haasan tries a similar attention-grabbing gimmick – for the first time, 10 different roles in a movie.
So what? It's still a lousy movie and overall a bad freak show.
If a crappy fiasco like Dasavatharam is all that we can expect from Kamal Haasan after forking out $15 for a ticket, it's time this dinosaur of the Tamil movie industry moves on to less taxing pursuits, like aadu, maadu maikara vela (a cowherd, grazing goats and cows).