Despite all the hype, stolen shit Ghajini has collapsed badly in its second weekend at the U.S. box office.
For the weekend of January 2-4, Ghajini grossed a mere $288,075.
The Aamir Khan-Asin movie Ghajini came in at No-25 with an average gross of $3,471, less than the second week average gross of $3,983 for Shahrukh Khan's Rab Ne Bana Di Jodi.
Here's a look at how Ghajini has fared compared to some prominent Bollywood films in the second weekend at the U.S. box office: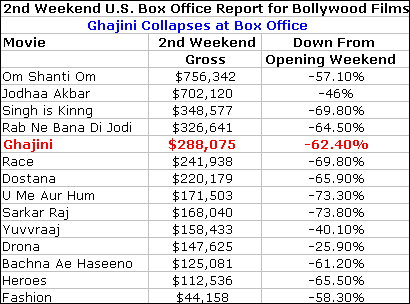 Source: Box Office Mojo
No, we are not surprised over the 62.4% crash in the second weekend for Ghajini.
After all, this movie is not only stolen shit but also a pathetic piece of shit.
If you haven't watched Ghajini so far, consider yourself blessed that you've missed a piece of stolen junk.
Save your precious money for a more worthy movie.