Vikram Pandit a.k.a. Desi Butcher is a man with absolutely no shame.
The man is also a f****** idiot.
The incompetent dodo who is clueless in dealing with the mega-crisis facing the beleaguered financial services company Citigroup (of which he is CEO), the desi butcher whose sole mantra to handle the crisis is to hack away at 73,000 Citi jobs, and the shameless beggar who has gotten $45 billion in federal bailout money is buying a $50 million corporate jet.
As if that was not bad enough, Citigroup is buying a foreign plane. The plush corporate jet is manufactured by French company Dassault.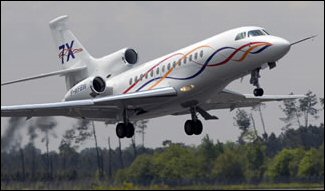 Photo: Dassault
We are not great fans of Rupert Murdoch's New York Post but today we want to give Murdoch a big, sloppy kiss.
After all, it was the NY Post that broke the story today with a catchy headline Plane Despicable.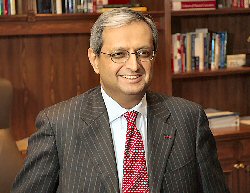 Vikram Pandit
Here's an excerpt from the NY Post story:
The French-made luxury jet seats up to 12 in a plush interior with leather seats, sofas and a customizable entertainment center, according to Dassault's sales literature. It can cruise 5,950 miles before refueling and has a top speed of 559 mph.

There are just nine of these top-of-the-line models in the United States, with Dassault's European factory churning out three to four 7Xs a month.

Citigroup decided to get its new wings two years ago, when the financial-services giant was flush with cash, but it still intends to take possession of the jet this year despite its current woes, the source said.
The NY Post says Citigroup is trying to dump two of its older Dassault corporate jets for $27 million each.
No, we are not the only ones to find this $50 million corporate jet affair disgusting (Particularly, when you have taken $45 billion in bailout money and fired 73,000 employees).
This is what Senator Carl Levin (Michigan, Democrat) had to say:
The notion of Citigroup spending 50 million dollars on a new corporate jet, even as it is depending on billions of taxpayer dollars to survive, does not fly….To permit Citigroup to purchase a plush plane — foreign-built no less — while domestic auto companies are being required to sell off their jets is a ridiculous double standard.
Citigroup's shares closed at $3.33 on the NYSE today.
How long before Vikram Pandit becomes road-kill?