Folks, God Exists.
Yes, he sure does.
Bollywood fans, who routinely come in their pants at the mere mention of Shahrukh Khan's name, have not merely rejected the Billu Barber crap show but shown it their middle finger, going by boxofficemojo's studio estimates.
Studio estimates provided by boxofficemojo show that Billu Barber grosssed a mere $512,124 in its opening three-day weekend at the U.S. box office.
Even Akshay Kumar's pathetic piece of shit Chandni Chowk to China and Abhishek Bachchan's junk Sarkar Raj fared better in the opening weekend. Shameful.
If Billu Barber fails at the box office, it'll be another blow for the Bollywood distributor Eros International, which has already suffered many blows lately.
Here are the Billu Barber estimates for the opening weekend and the comparison with a few other prominent Bollywood movies: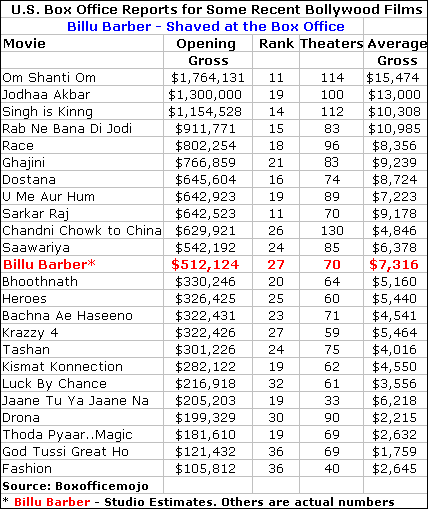 Folks, Billu Barber is crap. We said that on Friday and we say that again on Monday. No ifs and buts.
Describing Billu Barber as a Triumph of Mediocrity, SearchIndia.com wrote in the review:
There's absolutely no reason to see this piece of crap a.k.a. Billu Barber unless money is burning a hole in your pocket, time hangs too heavily on your hands or you come in your pants at the mere mention of Shahrukh Khan's name (like the people in the Budbuda village in which this movie is set).

That trash like Billu Barber continues to be made and, worse, released in theatres around the word is a testament to the incredible mediocrity and utter shamelessness pervading Bollywood today.

Silly Exercise
Directed by a clueless dodo called Priyadarshan, Billu Barber is a silly movie with a cast of buffoons (with the sole exception of Irrfan Khan) making monkeys of themselves and the audience. [Read the full review here.]