U.S. Box office collections for Shahrukh Khan's crap show Billu Barber have fallen 85.60 % in the second weekend.
In a humiliating rebuff to the Bollywood superstar, Hindi movie fans have shown Shahrukh Khan the middle finger.
Billu Barber's second weekend collections are worse than that for some of the lousiest Hindi movies ever made – Yuvvraaj, Drona, Heroes et al.
Compared to other Shahrukh Khan movies like Om Shanti Om and Rab Ne Bana Di Jodi, Billu Barber's second weekend gross at the U.S. box office is nothing short of disaster.
Here's how Billu Barber fared compared to a few other prominent Bollywood movies in the second weekend at the U.S. box office: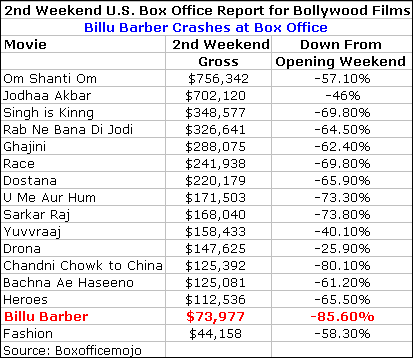 Are we surprised that Billu Barber has turned into a disaster?
No. Not at all.
As SearchIndia.com wrote in the review of Billu Barber:
There's absolutely no reason to see this piece of crap a.k.a. Billu Barber unless money is burning a hole in your pocket, time hangs too heavily on your hands or you come in your pants at the mere mention of Shahrukh Khan's name (like the people in the Budbuda village in which this movie is set).

That trash like Billu Barber continues to be made and, worse, released in theatres around the world is a testament to the incredible mediocrity and utter shamelessness pervading Bollywood today.