The theme is nice; the lines are funny; the acting is solid.
Yes, we enjoyed this delicious comedy.
But we doubt I Love you, Man will fly with our desis. At least, not with the Bollywood or Kollywood craving crowd. Maybe, the movie might resonate with the ABCDs but not with most of our regular desi neanderthals stuck in the ice ages of Vadivelu, Rajpal Yadav, Johnny Lever or Brahmanandam.
I Love You, Man is the well-told story of a recently engaged Los Angeles real estate agent Peter Klaven (Paul Rudd), who suddenly discovers that unlike his fiancee Zoey (Rashida Jones), who has two close girlfriends with whom no secret is left unshared, he has no male friends at all.
No buddies to go out on golf-camps or weekend trips to Vegas or have a beer or play poker with.
Hey, things are so bad that Peter can't even think of anyone to be the Best Man at his forthcoming wedding.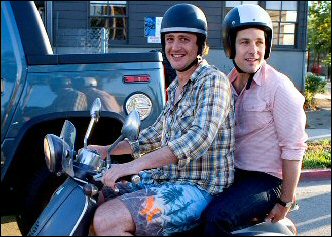 The problem, as Peter's gay-brother explains one night at a family dinner, is Peter's always been a girlfriend guy.
Peter's clumsy attempts to find new male-friends invariably fail to yield the desired results and end up being quite funny. Either the new friends are gay or cranks like the fellow working at the gym!
Things begin to look pretty despondent for Peter until he comes across Sydney Fife (Jason Segel), a financial consultant with a dog named Anwar Sadat and a shared affinity for the Canadian rock band Rush.
They go out for dinner, share beer, discuss intimate details of their lives and jam together loudly in Sydney's garage much to the irritation of the neighbors.
The two new friends get so close and spend so much time together that Peter's fiancee Zoey starts to get really irritated.
Will Peter's new friendship with Sydney completely sour his relationship with Zooey?
Talented Cast and Crew
Well suited for their roles, Paul Rudd and Jason Segel are both talented actors with an extensive repertoire of expressions.
As they bond together, they share a fine chemistry that's a delight to watch, whether the two are on the Venice boardwalk, on Sydney's scooter, eating fish tacos at the bar or just shooting the breeze in Sydney's garage.
Comedies are a hard act to put together but I Love You, Man gets it right.
I Love You, Man is directed by John Hamburg. The screenplay is by Hamburg and Larry Levin based on the story by Levin.
Comedy in Indian Fims
Indian movies have not done well with the comedy genre (truth be said, Indian movies are mostly ugly in any genre).
Attempts at humor in Indian movies invariably end up being hopelessly amateurish (the Vadivelu kind in Tamil movies or Rajpal Yadav's recent Bollywood movies) or disgustingly vulgar (again, the Vadivelu kind).
Hera Pheri (Paresh Rawal) is one of the few Indian comedies that we enjoyed in recent years.
It's only when you watch comedies like I Love You, Man that you realize how far behind desi filmmakers are in this genre.
SearchIndia.com recommends I Love You, Man. The movie is playing all across America in a theater near you.