No, ye schmucks.

Bisi Bele Bath is not a fragrant soap that you use to wipe the grime or the gooey stuff between your legs in the privacy of your bath room.
Bisi Bele Bath is what the Gods created when they were in a particularly ebullient mood.
Bisi Bele Huliyanna, as this gift from the Heavens is more popularly referred to by the cognoscenti like us, is made of rice, Toor Dal, tamarind, potato, onion, carrot, beans, peanuts, red chillies, clove and other spices.
A speciality of the South Indian state of Karnataka, if you must know.
God, that state has gone down the toilet after Devaraj Urs thanks to buffoons like Gundu Rao, Bangarappa, Veerappa Moily (this man will never forgive us, Moily, please forgive us for what we did to you), Deve Gowda and all the other clowns that followed.
Seems like Bisi Bele Bath is the only thing this godforsaken state can be proud of these days.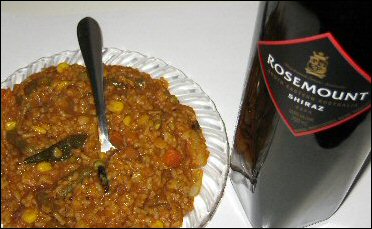 Bisi Bele Bath with Rosemount Shiraz (2005)
Compared to the Bisi Bele Bath, the other South Indian rice favorite Puliyodharai a.k.a Puliyogre and Pulihora, tastes like what the cat left behind before jumping out of the window.
Yesterday, a new visitor to SI blog (kc2002) recommended the Rosemount Shiraz, another Australian wine.
Folks, can't you think of a non-Australian wine. 🙁
And given our bibulous tendencies, we made haste to the neighborhood Patel liquor store.
Of course, our Patel tried to sell us the 1.5l $14.99 bottle. We gave him one dirty knowing desi look and plumped for the $8.99 750ml bottle.
After telling the Patel that he was now famous on the Internet and showing him proof of that on our iPhone, we wrangled a $1 discount.
Frankly, our Patel had no clue what we were talking about. You see, these Patels are a variant of Pavlov's dogs. Only, instead of salivating when the light bulb is switched on, these Patels drool at the sight of dollar bills, bigger the dollar bill more the saliva on the floor. Everything else goes over their head.
God, there are few things in life to die for these days.
Bisi Bele Bath with Rosemount Shiraz, yes folks we recommend this potent combination to one and all.
The wine is a little sweet and Bisi Bele Bath is, of course, a tad spicy.
A sip of the wine and a spoon of the spicy Bisi Bele Bath.
What a contrast.
Hey, we're already on our second glass of the Rosemount Shiraz and a second plate of the Bisi Bele Bath.
Thank goodness, there's Bisi Bele Bath. And Rosemount Shiraz.
OK, go away now. We're going down for the third glass.
By the way, did Wordsworth really say:
Bliss was it in that dawn to be alive,
But to eat Bisi Bele Bath with Rosemount Shiraz was very heaven!
Or is it the play of our third glass of Rosemount Shiraz?