Firefox has been our preferred browser for quite some time now on all our computers.
So it was a no-brainer that we'd look at Firefox 3.5 (a key update to the browser released yesterday) sooner rather than later.
Here are some of the enhancements in Firefox 3.5: improved JavaScript performance, a new Private Browsing mode, native support for open video and audio and Location Aware Browsing. You can read details in the Firefox 3.5 Release Notes.
The folks behind Firefox claim that the update is twice as fast as Firefox 3 and ten times faster than Firefox 2 on complex web sites.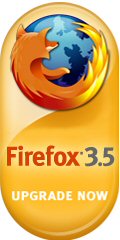 A short while ago, we downloaded Firefox 3.5 on our Windows XP laptop. The whole process was smooth and took only a couple of minutes.
After the download, we tested the upgrade by visiting some of our favorite web sites like SearchIndia.com, NYT et al. It did seem faster.
Next, we installed Firefox 3.5 on our Windows Vista desktop.
With the Vista OS, the Firefox 3.5 download process was not smooth.
There was a partial installation at first and we had to do it a second time. Perhaps, it was because we had several browser windows and tabs open. Plus, there was an incompatbility with Microsoft .NetFramework Assistant 1.0. Overall, the process took about four minutes.
After the installation, there were no issues on the Vista PC also. All our bookmarks and favorites on the toolbar were carried over from the previous 3.0.11 version.
As of 6:39PM ET on Wednesday, there has been over 6 million downloads of Firefox 3.5.
Why is there a mere 96,182 downloads of Firefox 3.5 from India? Are the schmucks there waiting for SRK or Akshay Kumar to endorse it or give the Firefox upgrade the seal of approval. 🙁