Firefox 4, which debuted yesterday, is going great guns.
The browser has already been downloaded 7.15 million times (as of 12:39PM ET on 3/22/2011) including, of course, by the nonpareil SI.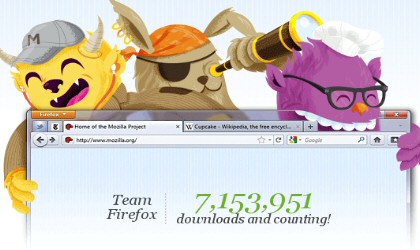 Faster, Better
The folks at Mozilla, the non-profit foundation that develops the open source browser, say Firefox 4 is two to six times faster than the previous releases.
Major enhancements to the JavaScript engine are said to make everything from startup time to page load speed to graphics and JavaScript performance "screaming fast" in Firefox 4.
In our tests, the browser did seem to load fast although we'd be skeptical of the "screaming fast" hyperbole.
Cool Look
The latest version of Firefox features a sleek, minimalist look that lets the web content take center stage.
There is an Orange tab on the top extreme left with drop-down box for the various options.
A convenient browser button on the right makes it easy to manage all your bookmarks and an asterisk inside the browser bar enables one-click bookmarking.
A Panorama feature lets you put your tabs into groups (we haven't tried it yet).
For the full list of features in Firefox 4, click here.
Guys, if you haven't downloaded Firefox 4 yet, click on the button below and we promise you even a Bollywood item number won't give you as much joy over the long term as the Firefox upgrade. 😉

Firefox 4 is available for Windows, Mac OS X and Linux in over 80 languages.
The upgrade is scheduled to be available on Android and Maemo devices soon.
Firefox also offers hundreds of thousands of add-ons, extensions and Personas.
A new Firefox Add-ons Manager is said to make it easy for users to manage and discover add-ons to customize their web experience.
So far, we haven't explored Firefox add-ons much. But we intend to do so in the coming weeks.
Go ahead, guys. Download Firefox 4 now. Show Internet Explorer the middle finger.