Tamil film Paiyaa has not fared well at the box office.
The average gross of the Lingusamy-directed, Karthi-Tammanna Bhatia starring Tamil movie Paiyaa at the UK box office is less than even that of Sathyam, one of the worst movies known to human civilization.
For the April 2, 2010-April 4, 2010 opening weekend, Paiyaa had an average gross of £3,503 while Sathyam had an average gross of £4,020.
Excuse us, while we wipe our (crocodile) tears.
Want more bad news?
Well, here we go.
Even that non-actor Ajith's Asal had a higher average gross.
As you can see in the below chart, director Lingusamy's previous crap show Bheema (2008) also had higher average gross at the UK box office.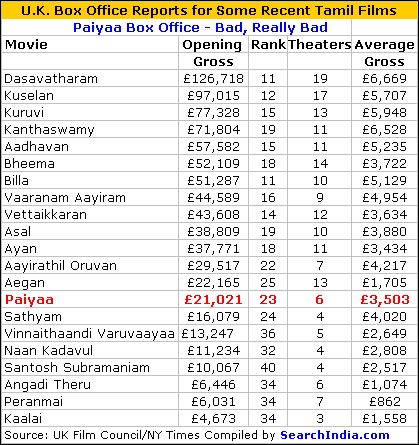 Are we surprised over the Paiyaa debacle?
Of course, not.
Here's an excerpt from SearchIndia.com's review of Paiyaa:
First, Siva (Karthi) uses a black umbrella to hide from the Bombay hoodlums waiting for him en route.

Second, the girl uses the same black umbrella in an abortive bid to hide from the Andhra goondas. Alas, the schmuck Charu (Tamannah Bhatia) can't even hold an umbrella straight and gives the game away to the waiting baddies

Hey, wait. We almost forgot. Our hero is Nikkara vandilae aeramataru (the hero will never board a standing bus).

Andhra thugs, Bombay thugs, Black umbrella, Nikkara vandilae aeramataru hero – Folks, these are the flimsy threads on which the Paiya story hangs teeters.

…..Any surprise then that the movie is a pathetic piece of shit.

Puke-worthy garbage unworthy of release in a theater.
Related Stories:
Paiyaa Review – Storyless, Pathetic Piece of Shit