Kites Box Office 3 – Shirdi Sai Baba Shows Middle Finger to Hrithik Roshan
Poor Hrithik Roshan.
Who'd have thought such a fate would befall the Greek God Indian movie star!
Our heart goes out for the fella.
Bollywood fans have taken a sharp knife and in a swift flick of the wrist peotomized Hrithik (now, for all ye schmucks, peotomy means cutting off the little fella).
The U.S. weekend box office numbers (estimates) for Kites are out and, we tell you, they are a frigging disgrace.
Folks, movies featuring the likes of Genelia D'Souza and Rani Mukerji have higher Average Gross per theater. Can it get any worse.
Kites, which had the widest release of any Bollywood film in the U.S., could manage an average gross of a disgustingly low $4,976 (Boxofficemojo estimates).
Jesus 'f*cking' Christ, even that stupid shit Bhootnath had higher average gross per theater.
By the way, Kites' average gross was lower than Hrithik's last two movies Krrish and Jodhaa Akbar (please see below table).
No, Kites was not impressive on the total gross either.
For the three-day May 21-23, 2010 opening weekend, total gross for the much hyped Kites is $1.035 million (estimates), significantly less than recent movies featuring Shahrukh Khan and Aamir Khan.
Kites is a piece of shit and deserves to lose money.
Here's how Kites fared in the opening weekend compared to a few prominent Bollywood films: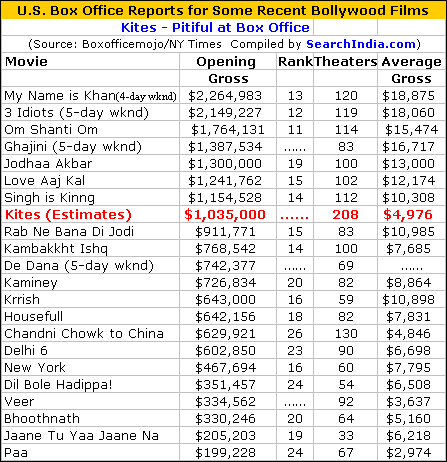 Related Content:
Kites Box Office 3 – Shirdi Sai Baba Shows Middle Finger to Hrithik Roshan
Kites Review – OMG, Utter Garbage
Match Point Review – OMG, Can Kites Match This?
Kites Opening Show USA – Poor Response