Desi girl Anamika Veeramani is the 2010 Spelling Bee champion.
Anamika's winning word at the 2010 Spelling Bee finals held at the Grand Hyatt hotel in Washington DC this evening was stromuhr.
(And we predicted the winner this morning. No kidding, folks. Read our comments and posts from earlier today.)
The 14-year-old girl is an 8th grade student at the Incarnate Word Academy in North Royalton, Ohio.
Even in victory, this seemingly-mature-for-her-age girl was a picture of composure none of the excitement showing on her face even though she must have felt thrilled inside.
Tamil Girl
Anamika Veeramani is most certainly of Tamil origin if you go by her last name and her parents' names.
Anamika's father Alagaiya Veeramani is a civil engineer and her mother Malar a Vice President at a bank.
She has a younger brother Ashwin, who was also on TV Friday.
In the 2009 Scripps National Spelling Bee, Anamika tied for fifth place.
Three Times in a Row
This marks the third year in a row that Indian-American kids have won the Spelling Bee.
In 2009, the winner was Kavya Shivashankar and in 2008 the champion was Sameer Mishra.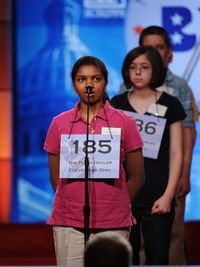 Anamika Veeramani
2010 Spelling Bee Champ
(Image: Bee web site)
The Bee web site counts among Anamika's passions reading, writing, photography and painting.
The Tamil girl is said to take private lessons in Indian classical dance and golf and studying Indian classical music for eight years.
Wait, there's more to this bright girl.
This high-octane kid has played the violin for six years, is a member of her school's orchestra and also enjoys swimming.
With a keen interest in science, Anamika aspires to become a cardiovascular surgeon, an author and a screenwriter.
Who knows, Anamika might perform a quadruple bypass on one of our U.S. readers in the future.
Bravo Anamika.
Related Stories:
Anamika Veeramani Out of 2009 Spelling Bee
Kavya Shivashankar is 2009 Spelling Bee Champion