(For SI Blog Reader Gandhiji)
Yawn, Yawn!
Hey, it's really getting tiresome.
One more Spelling Bee championship and one more Indian American winner.
Yes, an Indian is the winner of the 84th Spelling Bee. 🙂
This time the top honors went to 14-year-old Sukanya Roy, an eighth grade student of the Abington Heights Middle School in Pennsylvania.
Going by her last name, Sukanya is most likely a Bengali.
Sukanya clinched the championship by correctly spelling cymotrichous.
This was Sukanya's third shot at the championship.
She participated in the 2009 and 2010 Scripps National Spelling Bees, tying for 12th place in 2009 and 20th place in 2010.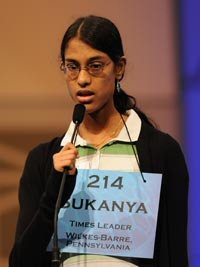 Like many of the previous Spelling Bee winners, Sukanya is a multi-faceted personality with a finger in many pies.
Sukanya's bio on the Spelling Bee site mentions that she enjoys hiking, rock climbing and ice skating. Sukanya was picked to go to Panama this summer with her school's ecology club to learn more about the rain forest.
A pianist, Sukanya also plays violin in her school's orchestra.
She won first place in the individual portion of the Northeast Pennsylvania Chapter Mathcounts Competition. Last summer, she was selected to participate in Jeopardy! Kids Week at the regional level.
Sukanya speaks Bengali, and every summer travels to India to visit family.
Sukanya plans to pursue a career in international relations.
Do we see a future Ambassador to India or Secretary of State in Sukanya? Watch this space.
Five Indian-Americans Among Finalists
Besides Sukanya, there were at least five other Indian-Americans among the finalists this year.
The other Indian-American finalists were:
* Arvind Mahankali, 3rd place tie
* Dhivya Senthil Murugan, 6th place,
* Sriram Hathwar, 6th place tie,
* Mashad Arora, 6th place tie
* Prakash Mishra, 10th place tie.
We're not sure if Nabeel Rahman, 10th place tie, is Indian or Bangladeshi.
The spellers at the 84th Spelling Bee ranged in age from 8 to 15 years old, but 82% were between the ages of 12 and 14.
Four Times in a Row
This marks the fourth year in a row that Indian-American kids have won the Spelling Bee.
In 2010, the winner was Anamika Veeramani; The 2009 winner was Kavya Shivashankar and in 2008 the champion was Sameer Mishra.
Wanna bet the 2012 Spelling Bee Championshion will be clinched by, who else, an Indian-American again?
Related Stories:
Tamil Girl Anamika Veeramani is 2010 Spelling Bee Champion
Kavya Shivashankar is 2009 Spelling Bee Champion