Shame, oh, the shame.
Today, the postman delivered our copy of Michelin Guide New York City Restaurants 2011 from Amazon.
And as we quickly perused the much-anticipated book, tears rolled down our cheek. They started as a trickle and ended as a flood.
Folks, there are over 200 Indian restaurants in the greater New York City area. Maybe, even 300.
Yet, not a single Indian restaurant has won the coveted Michelin star this year. They didn't get any last year too.
Austrian, French, Italian, Greek, Seafood, Mediterranean restaurants and steak houses in New York City have all got Michelin stars. The rare few three, some two and others a lone star.
But Indian restaurants?
Nil. Cipher. Nichts. Zilch. Nada.
Tabla, Tamarind, Utsav, Devi, Chola….none of them got a star. Worse, in a big insult Chola does not even figure in the 2011 Michelin Guide. What a disgrace.
Only 15 Indian restaurants in NYC get a mention (but no stars) in the 2011 Michelin Guide to New York City Restaurants:  Bay Leaf, Bombay Talkie, Brick Lane Curry House, Bukhara Grill, Copper Chimney, Delhi Heights, Devi, Indian Clove, Jackson Diner, Saravanaas, Surya, Taj Tribeca, Tamarind, Tamba Indian Grill & Bar and Utsav.
Tabla is mentioned in the 'contemporary cuisine' category.
Saravanaas and Surya are also highlighted in Michelin's Bib Gourmand category of restaurants that provide good value (for $40 or less, diners are supposed to get two courses and a glass of wine or dessert).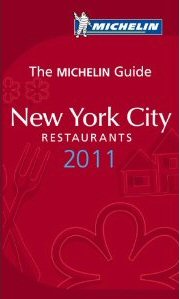 Although not in the SearchIndia.com league of reviews for Indian restaurants, Michelin reviews cover a broader array of cuisines.
Like SI's restaurant reviews, the Michelin Restaurant Guides too are based on anonymous reviews by the Michelin Inspectors.
What Determines a Michelin Starred Restaurant
Now, that's a good question.
And here's the answer from the source, i.e. the people at Michelin Guide:
When giving  one, two, or three Michelin stars, there are a number of elements that we consider including the quality of the ingredients, the technical skill and flair that goes into their preparation, the blend and clarity of flavours, and the balance of the menu. Just as important is the ability to produce excellent cooking time and again. We make as many visits as we need, so that our readers may be assured of quality and consistency.
By the way, a mere five NYC restaurants got the extremely hard-to-achieve Three Stars in the 2011 guide: Daniel, Jean Georges, Le Bernardin, Masa and Per Se, no change from the 2010 guide.
Indian Restaurants Fail Again
Indian restaurants in NYC, as we've repeatedly lamented, fail at the most elementary tasks.
Most desi restaurants can't get even simple Indian items like Pakoras, Naan Bread, Tandoori Chicken or Masala Dosa right.
And service at Indian restaurants is marked only by its total absence. Often, the unschooled baboons at desi restaurants treat Indian diners badly and as for hygiene, many of them are no more than dumpsters with rats, mice, vermin, roaches and other issues. Here are two horrifying examples from NYC Health Dept inspections: Chola in Midtown Manhattan (8/26/2010 inspection) and Brick Lane Curry House in the East Village (9/23/2010 and 8/9/2010 inspections).
Bottom line, most NYC Indian Restaurants = Glaring Incompetence.
Let's see what the 2012 Michelin Guide brings.
But we're not holding our breath in anticipation of a Michelin Star for an NYC Indian restaurant for at least another five years.