It's given to few earthlings to experience Dante's inferno.
Count us among the unfortunate souls that walked into the nine fiery pathways of Hell via the portals of an NYC Indian restaurant.
It was bad Karma that dragged us into Darbar Grill, a dumpster on East 55th St in Midtown Manhattan masquerading as an Indian restaurant.
Folks, Darbar Grill gives strong competition for the odious distinction of serving some of the crappiest Indian food in New York City the entire universe.
Food so obscenely bad, it's a complete repudiation of taste.
Be it appetizers, the curries or desserts, the shaitans at Darbar Grill's kitchen left no stone unturned in making our meal hellishly awful.
Take it from us, a restaurant as fiendish as Darbar Grill must have Satan's cruel, gnarled hand guiding it even if a mortal's name is listed in the ownership papers.
Because a mere mortal would be incapable of inflicting such depravities on hapless humans.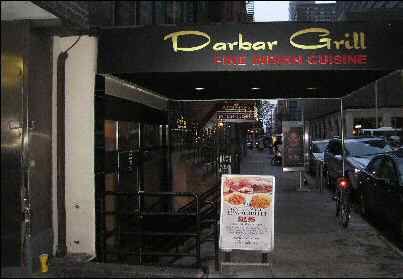 A Curse on NYC Diners – Shun the Impostor

Cold Comfort
Alu Bonda was a tasteless abomination, like eating boiled, mashed potatoes deep fried in oil. To make a bad dish worse, the travesty was cold.
Corn Spinach was sweetish, spiceless and tasted yuck to our spice hardened palate. It was bad with Naan bread and worse with plain rice.
Vegetable Makhani was so sour we wondered if the restaurant owner Satan orders tomatoes by the truck-load. You see Darbar Grill's Vegetable Makhani had so much more tomato vis-a-vis the other vegetables and spices that it was as if a sour nightmare invaded our palate.
Devoid of any taste or flavor, Alu Beans had insignificant Alu pieces and tasted like boiled French beans.
Yellow Tarka Dal was hot (temperature-wise) unlike other items on the lunch table. That's all we can say in favor of this common Indian fixture.
Uncooked Rice?
Rice pilaf with few pieces of carrot and green peas was so dry leaving us flummoxed as to whether it was cooked rice or raw rice. Mercifully, there was very little of the disgustingly dry rice pilaf in the serving bowl and the Darbar Grill staff Satan's minions never cared to replenish the near empty container.
Hey, you cheating scumbag owner of Darbar Grill, a buffet table must be full till the last diner has finished eating. Comprende?
Horrible Tandoori Chicken, Sour Chicken Tikka Masala, Chewy Goat Masala
Tandoori Chicken was poorly marinated and set a new milestone in tasteless, offensive garbage in the garb of Indian food.
It did not give us any pleasure biting into this most common of non-vegetarian chicken dishes.
Chicken pieces in Chicken Tikka Masala were tender. Alas, the obscenely sour reddish brown color gravy robbed us of the joy of digging into this dish.
Goat Masala gravy was mildly spiced and flavorful but the chewy meat ruined the pleasure.
Another solace in our otherwise miserable meal was the gravy in Goan Fish Curry. The medium thick gravy in the Goan Fish Curry was flavorful and we enjoyed it with the Naan bread. While the gravy was flavorful there were few pieces of fish in the container. Finding a piece of fish in Darbar Grill's Goan Fish Curry was like waiting with your bait for a fish in the creek.
Fresh Chutneys
Green Chutney was flavorful and relished as an accompaniment throughout our meal.
Coconut Chutney was fresh but way too bland without any traces of South Indian fixtures like Idli Or Dosa on the lunch table. You see Coconut Chutney is usually served as an accompaniment with Idli or Dosa. More on this later.
Disappointing Desserts
Rice Kheer, Gajar Halwa, Mango Mousse and a nameless dessert that looked like Peach Cobbler were what the Devil laid out in the concluding chapters of his macabre plot.
Rice Kheer had a overpowering smell and taste of rose essence while Gajar Halwa was way too dry with a strong raw carrot taste.
Don't even ask about the Mango Mousse and Peach Cobbler?? The less said about these misadventures the better.
Cheating Swines, Abominable Service
While we are no strangers to bland tasteless Indian food in NYC hovels, what irritated us in no small measure was the abominable and clueless service.
Empty Buffet Table Containers
The board outside the Darbar Grill clearly states the Lunch hours are from 11:30 a.m. – 4:00 p.m.
Though we walked in an hour before closing time, many of the vessels on the buffet table were near empty with the sole exception of that tasteless Yellow Tarka Dal and Corn Spinach.
Alu Bonda appetizer bowl on the lunch table had just three pieces and was never refilled during our hour-long sojourn at Darbar Grill. After we helped ourselves with the appetizer, there were none left for the five or six diners who came after us. But the Darbar Grill waitstaff shaitans never cared to refill the bowl.
The dry Rice Pilaf was near empty and had just two are three spoonfuls. Ditto with Alu Beans, Chicken Tikka Masala, Goat Masala. The Goan Fish Curry had just gravy but hardly any Fish pieces. But none of these vessels were replenished during our stay and, worse, we saw the Darbar Grill's wait staff hurrying paying diners with warnings that they'd remove the lunch items from the table.
Thank you for warning diners that the empty vessels would be removed.
Who says the Devil has no sense of humor!
Besides the near empty dishes, we were also surprised to see the Coconut Chutney on the lunch table without any of the the South Indian fixtures like Idli or Dosa. Unable to contain our curiosity we asked a passing waiter whether Dosa is part of Lunch buffet.
The short waiter got agitated at our question and angrily muttered – "You say Dosa, then we give you Dosa. You no say Dosa so we no give you Dosa." Then he gestured toward the buffet table and screeched: "So many food there."
In the absence of a signboard, how the fu*k would paying diners know Dosa is part of lunch and they have to ask for it.
Also, there was a nameless dessert on the dessert table which looked like Peach Cobbler to us. We stopped a tall, dark waiter who was passing by and asked him its name. Returd like, he grinned at our question and said, Honestly I do not know the name of that dessert.
Dirty Restrooms and Clogged Sink
Like in most Indian restaurants in NYC, restrooms at Darbar Grill are blackholes and you have to search and grope for the light-switch. The restroom was also very dirty with water (or maybe piss) and toilet-paper roll on the floor.
The sink was full of water probably due to a clogged drain making it difficult to wash our hands.
Bottom line, we cursed ourselves for visiting this Devil's outhouse and vowed never to return to this Midtown East Manhattan monstroshitty.
We can't wait for this Satanic piece of shit a.k.a. Darbar Grill NYC to shut down.