Well, 2010 is certainly turning out to be annus horribilis for some NYC Indian restaurateurs.
At least six well-known NYC Indian restaurants, some belonging to prominent groups, have called it quits in 2010.
Among the NYC Indian fatalities are the high-end Tabla (shutting down at the end of this year), A Desi Diner (belonging to Satinder Sharma's Brick Lane Group), Spice Fusion, Cafe Spice (University Place) and lately Sukhadia's.
Sukhadia's, a well established brand with branches in Iselin (New Jersey), Chicago and Los Angeles recently closed its vegetarian restaurant and sweet store in midtown Manhattan.
We were not surprised over Sukhadia's demise because the place had a rundown, forlorn look during our last visit a few months back.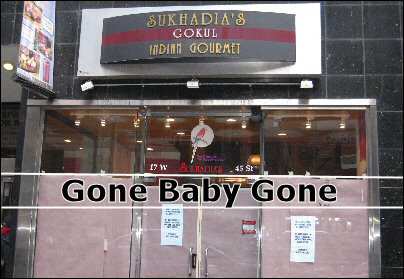 Sukhadia's – Another NYC Indian Casualty
That's not all.
A few minutes back, when we called Yogi's Kitchen on Lexington Ave, we found the telephone line had been disconnected.
No question there is turbulence among NYC Indian restaurants.
And a prominent survivor in midtown Manhattan is currently offering discounts of up to 30% for lunch.
Are such giveaways the solution? We're not sure.
Too Many NYC Indian Restaurants
There are just far too many Indian restaurants in NYC, most of them serving the same Chicken Tikka Masala, Tandoori Chicken, Vegetable Biryani, Lamb Roganjosh et al. In an interesting trend, some Indian restaurateurs have now started dipping their toes into other cuisines (Thai, Italian, Indonesian et al)
While the U.S. recession and the large numbers  of Indian restaurateurs are partly to blame, NYC Indian restaurants also have to own up responsibility for their current plight.
A lot of the NYC Indian restaurants serve awful food and run dirty, unhygienic establishments that put off people. Plus, Indian cuisine is still not mainstream.
Other reasons for the distressed state of several NYC Indian restaurants include bad management, lack of advertising and bad business plan, absence of deep pockets to tide over lean times and investor bail-out.
We predict at least half-a-dozen more NYC Indian restaurants will go in the next six months.
Watch this space.
Some New Ones
Even while several NYC Indian restaurants are folding, some restaurateurs are boldly expanding.
Jackson Diner has set up shop in University Square, Bollywood actor Shiva Natarajan opened Bhojan on Lexington Ave, Tawa Tandoor headed to Jackson Heights and Rajesh Bhardwaj, co-founder of Cafe Spice, has just unveiled the high-end Junoon on W.24th St.
Of the four new establishments, we've visited Jackson Diner Manhattan (average food) and Bhojan (obscenely bad food).